Traditional loin weaving art is witnessing a revival in Nagaland
The traditional loin loom weaving art of Nagaland in India, which had been in decline due to a dearth of customers, is on being revived thanks to diversification
Atali lives in the Kenuozou colony in Kohima, a district in Nagaland, North-East India. She has been a loin loom weaver for over three decades. The 49-year-old widow depends upon loom weaving to eke out her livelihood. She manages to earn 8,000-10,000 rupees (approximately 100-120 USD) per month to feed her three children.
She says that loom weaving has been helping her to survive and run her family, "I am able to educate my children with the help of the loom. The situation, however, was bad even a few years ago as the demand for loom-weaved clothes was dying. It was even difficult to arrange two square meals a day. But things are changing and we are getting orders. We are able to run our families with the help of weaving looms," Atali says with a smile on her face.
Nagaland's unique art form
Loin loom textile weaving is a unique craft interwoven with the cultural identity and livelihoods of the people of Nagaland. The portable loom gets its name from the strap pulled around the weaver's back that holds the whole structure of the loom at the required tension, enabling a sturdy weave pattern. Due to the nature of the loom, the fabric is normally woven in single pieces that do not exceed more than 18-20 inches. Larger pieces of fabric are made by stitching together multiple strips. Weaving in Nagaland is exclusively done by women of all age groups and tribes.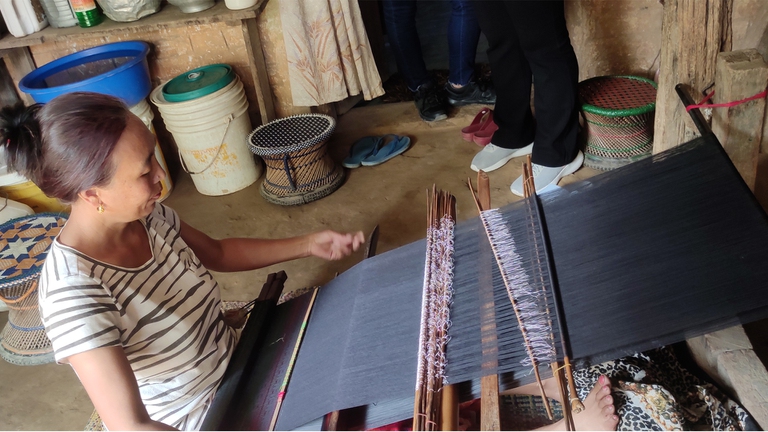 As per the Naga tradition, girls are trained in the art since childhood and knowledge about weaving is a sought-after attribute when families are preparing to arrange a marriage. Neizenuo, 37, a homemaker who resides in Kohima district, says that a prospective bride has to weave a mekhala and shawl for her fiancée's family. "According to our custom, a woman has to weave and gift the traditional cloth to her husband's family. We start training the girls when they are minors. It takes years to get a complete grip over the art," she says.
Livelihoods affected by fading demand
Women mostly weave Mekhala, a traditional Naga sarong intricately woven in turquoise thread. The cloth is worn by women in Nagaland across their waist but it had been losing its importance due to the increasing popularity of contemporary dress styles, which almost overshadow traditional dress. Many artisans started to experience severe financial strain, often shifting to other professions in order to try to maintain their livelihood.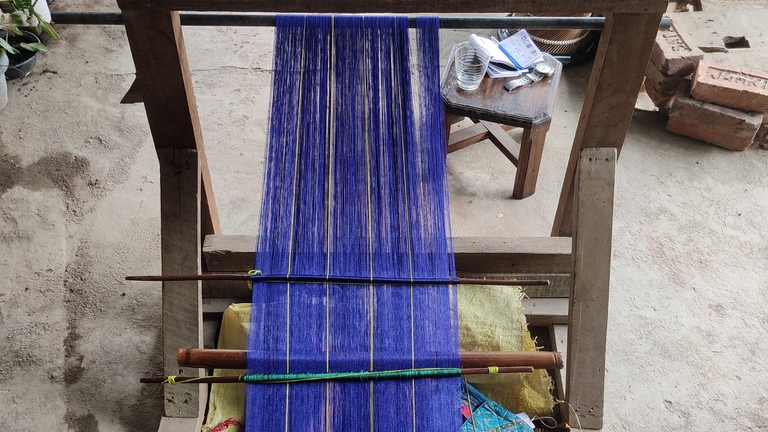 Collective efforts for revival began in 2008 when a livelihood project was initiated by North East Network (NEN), a non-profit women's organization working in the North East region of India with a focus on women's human rights. The 'Chizami Weaves' project – named after a village where the efforts first began – aimed at creating livelihood opportunities for women and enhancing their earning capacities, professional choices and collective spaces. It was also an attempt to preserve the traditional weaving skills and design motifs.
The weavers in Chizami belong to the Chakhesang Naga tribe, who are invariably from economically poor families that own very small pieces of cultivable land to live on. Generally speaking, cash income is low amongst rural communities in Nagaland.
Diversification
"There was a dire need to save the art from dying and secure the livelihood of several thousands of women weavers across Nagaland. The women were only weaving traditional Mekhalas. There was an urgent need for diversification to save the art. We started by training women in making various designs of traditional cloth. We also taught them to make cling bags, shawls, and mufflers. The aim was to create more avenues of livelihood for them," said Neitshopeu Thopi, Programme Associate at NEN. "We adopted a production model that was based on decentralisation, the autonomy of weavers in making decisions on their work timings, and creating space for innovation in design development. We realized that the viability of any entrepreneurial activity needs to be integrated with the socio-cultural ethos of the community."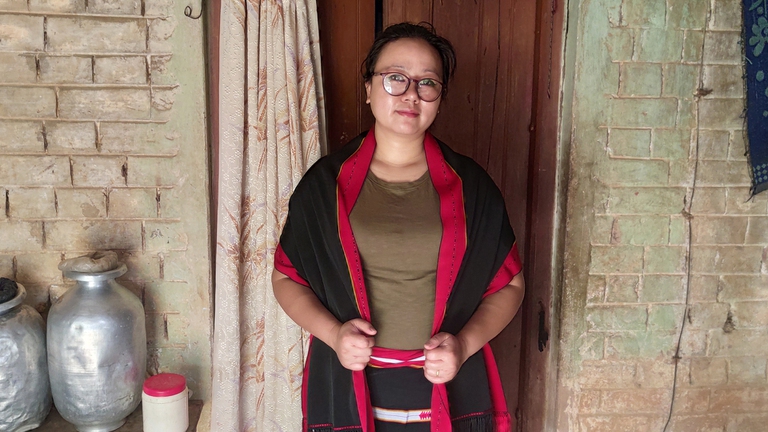 The idea has proved to be valid, as diversification has not only helped the age-old culture to survive but also to give livelihood to women. The efforts to save the art started with 7 weavers, and NEN currently works with over 700 women weavers from 16 villages in the Phek district, as well as urban settlers from Kohima and Shamator in the Tuensang district of Nagaland.
Health issues
However, weavers also complain that they suffer from severe back, knee pain, and strain in their eyes due to long working hours. "We work for around 8-10 hours a day to make mekhalas. It takes at least two weeks to make a single piece with intricate designs. The strap tied to our back and the meticulous making of designs causes strains in our eye. We do not have adequate health facilities," said Jevili Shiqi, 45, a weaver from Baviyuv colony in Kohima district.
Apart from health issues, the younger generation is not willing to take up this art as their full-time profession. Jevili's daughter, Jenestoli, a 26-year-old graduate, says that she would learn the art but would not take up the profession. "Our culture wants us to be proficient in the art. But I would not take it up as a full-time job because it doesn't offer the kind of income that we can earn through jobs."
The weavers are also facing stiff competition from power looms that offer lower prices for mekhala as compared to handlooms. NGOs say that they are trying to make the best use of digital media in order to save the art. "We cannot ignore the importance of digital media in today's times. We upload fresh designs on our social media pages, which has been helping to promote the art and gain fresh customers and reach a wider range of people," said Angunuo Miari, District Field Mobilizer at NEN, Kohima district.

Quest'opera è distribuita con Licenza Creative Commons Attribuzione - Non commerciale - Non opere derivate 4.0 Internazionale.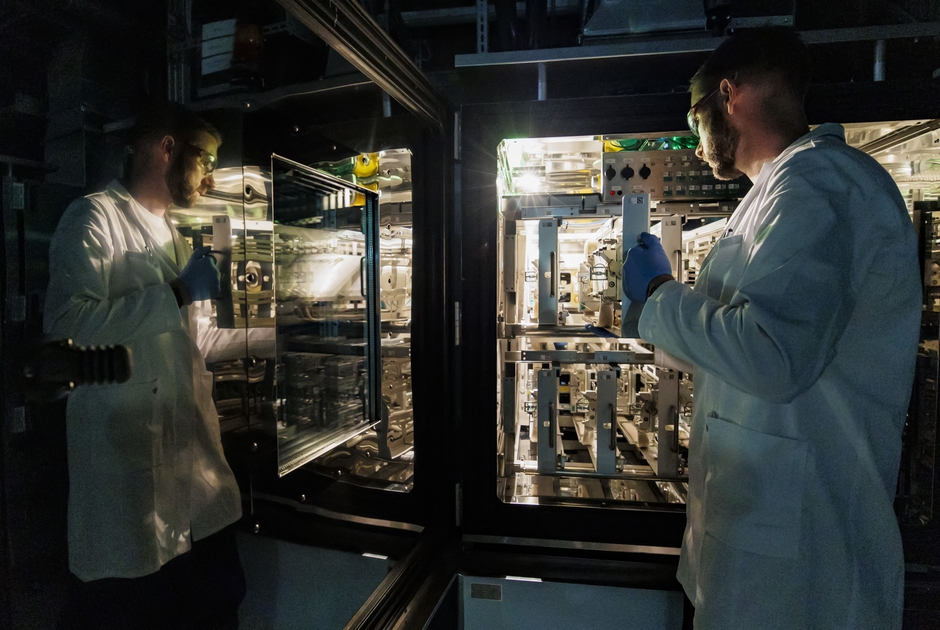 Agreement between EU Parliament and Council on sustainability targets for batteries, covering the whole value chain from extraction to disposal.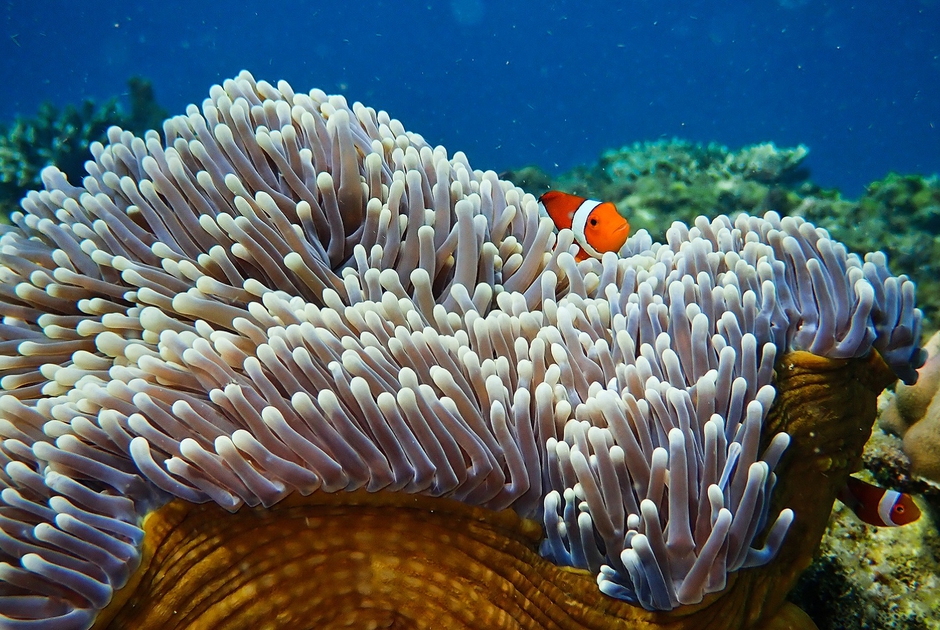 An artificial intelligence has been programmed by Exeter University researchers to monitor the health of coral reefs by studying their sounds.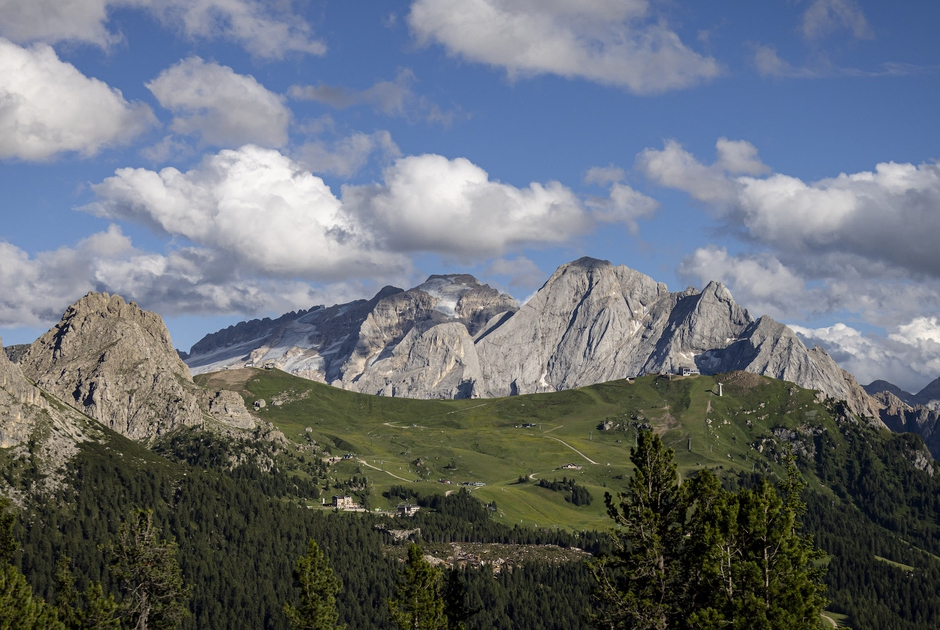 A study published by Science tells us that even if the most ambitious climate targets are met, half of Earth's glaciers will not survive.