LifeGate PlasticLess®
Objectives
LifeGate PlasticLess® was launched with the goal of protecting the health of the oceans and our own. The project aims to help reduce pollution in the seas by collecting the plastic waste that accumulates in ports and marinas. The aim is also to promote truly circular economic as well as consumption models centred on reducing, reusing and recycling waste, in particular the most harmful to the environment: plastics.
Activities
Reducing sea pollution

The presence of plastic waste in the Mediterranean Sea represents an emergency that must be tackled urgently. According to United Nations Environment (UNE, formerly UNEP), 731 tonnes of plastic end up in this body of water every day, a figure that could double by 2025. This is why LifeGate is actively contributing to collecting plastic waste from the sea by placing Seabin devices in ports and marinas. These are able to collect plastics, microplastics as small as 2 mm and microfibers as small as 0.3 mm.

Raising awareness

Real change starts with becoming aware of our behaviour's impact. Getting to know and fully understanding the consequences of our actions is the first step to altering harmful choices. This is why LifeGate, through its media network, is providing wide journalistic coverage of circular economy themes, with a particular focus on the problem of plastics in the world's rivers, seas and oceans. All articles linked to this project's themes are collected in the Plastic tag.

Promoting good practices

Once we decide to change our behaviour and consumption patterns with the aim of adopting more sustainable lifestyles we need to know what to focus on. In this sense, LifeGate wants to suggest the most sustainable daily habits, such as reducing packaging, recycling materials and separating waste properly. Reporting best practices and success stories from around the world helps readers gain a clearer vision of what the problem as well as the solutions are.
Why launch LifeGate PlasticLess®?
Because the world's seas are increasingly choked by plastic and the Mediterranean Sea, which is home to 7.5 per cent of the known marine species, is one of the most affected areas. According to UNE, the bottom of the Mediterranean Sea already contains 100,000 plastic fragments of different sizes per square kilometre. Among the main causes are: incorrect collection and management of waste, productive activities, tourism, port activities and people's unconscientious behaviour, which cause tonnes of plastic to reach the seas and oceans every day.
Among these are microplastics, fragments smaller than 5 mm, the most dangerous type. They're increasingly widespread, for example sticking to algae that are eaten by fish who confuse them for food. This is how they reach our tables. A study conducted by the Italian Institute for Environmental Protection and Research (Ispra) found microplastics in 18.2 per cent of the 121 samples of species with high commercial value such as swordfish, red tuna and longfin tuna.
The first step required to begin tackling the problem is using less plastic. Yet, according to the fourth Italian Observatory on Sustainable Lifestyles, a country-wide survey conducted by LifeGate in collaboration with Eumetra MR, even if over 53 per cent of Italians are aware of the issue, 67 per cent still consume water in plastic bottles during meals because they think the material is "safe".
This means that bottles become waste right after use, potentially ending up in the sea.
What is Seabin
The Seabin is a collection bin that floats in water and is able to capture around 1.5 kg of waste per day, equal to over 500 kg of debris a year (depending on its size and weather patterns), including microplastics from 2 to 5 mm in diameter and microfibres starting from 0.3 mm. The device is also able to intercept a lot of the waste that sadly often finds its way into the sea, like cigarette butts.
Find out where Seabins have been installed
The Seabin is placed in the water and fixed to a dock with the upper part of the device on the same level as the water's surface. Thanks to the wind's spontaneous force as well as currents and the device's strategic positioning, debris is sucked directly into it. The water pump connected to its base is capable of treating 25,000 litres of seawater an hour.
Waste is collected in its bag, which can hold up to 20kg, whilst water runs through the pump and returns to sea. When the bag is full, it is emptied and cleaned. The device works 24 hours a day and is therefore able to remove more trash than a person using a collection net. Even though it can't be used in the open sea, as it requires electricity, it is extremely effective in areas such as ports as these are "accumulation points" in which most sea waste converges.

How we want to use Seabins
LifeGate's objective is to position the most devices and to do so it is creating a network of businesses and people who can contribute to the challenge of collecting plastic waste from the sea – in which 90 tonnes of plastic end up every day in Italy alone (UNE data).
Thanks to the support of the project's sponsors, the percentage of the plastic collected that is reusable for industrial purposes – once integrated with other recycled plastic from oceans around the world – can be used by LifeGate to produce items such as sarongs and sweaters.
Ocean plastics. There is no blame, only responsibility.https://t.co/zdR4YKiiiT pic.twitter.com/lObpp6qzt5

— Seabin_project (@Seabin_project) May 19, 2018
Why the Seabin
Existing solutions to the problem of ocean and sea pollution aren't as effective and efficient in responding to real conditions. Among there are "trash boats", which are deployed around ports and have nets attached to them to collect floating trash. This system is costly to manage and maintain and isn't particularly effective, according to the marinas that deploy it. Another system is manual collection, in which staff collect waste that accumulates in the corners of ports and marinas using nets. The effectiveness of this system is also limited because it allows for collecting only visible waste, omitting microplastics, as well as being very labour and time intensive.
This is why LifeGate has chosen Seabin, which allows for an effective and continuous collection of floating plastic waste, requiring minimum effort on the part of designated staff.
Seabins in Italy
The LifeGate PlasticLess® project kicked off inù the port areas of Santa Margherita Ligure (Genoa province), the Portofino Marine Protected Area (Genoa province), Grazie Port in Roccella Ionica (Riccione province), the Venice Certosa Marina (Venice province) and Genova Marina, Sestri Ponente's touristic and nautical centre (Genoa province).
Starting from September 2018, thanks to the initiative's main partner, Volvo Car Italia, three new Seabins have been positioned in the Cattolica Marina (Rimini province), Varazze Marina (Savona province) and a second device in the Venice Certosa Marina. In May 2019, Volvo car dealers, following the parent company's example, contributed to positioning new devices in Riccione Tourist Port (Rimini province), Capri Tourist Port (Naples province), Pescara Tourist Port and in the Cala Ponte Marina tourist port in Polignano (Bari province).
With the support of Whirlpool EMEA, thirteen Seabins have been installed. The ports and nautical clubs are: in the De Cesari Marina in Fano (province of Pesaro and Urbino), San Benedetto del Tronto Nautical Club (Ascoli Piceno province), Sant'Andrea Marina in San Giorgio di Nogaro (Udine province), Blu Marina in Rimini, Dorica Marina in Ancona, Gestiport in Senigallia (Ancona province), Capraia all'Isola Marina in Capraia, the Nautical Sailing Club (Club Nautico della Vela) in Naples (Borgo Marinari), Lacco Ameno Marina and Forio Marina in Ischia (Naples province), Capo d'Orlando Marina (Messina province), the Aquatic Port of Alghero (Sassari province), and National Italian Sailors' Association (Associazione Nazionale Marinai d'Italia) in the Milano Darsena.
Thanks to Coop, together with the national association ANCC Coop, a Seabin has been installed in Sestri Ponente, in the Genova Marina.
KLM Italia and Armata di Mare launched the #perunmarepulito ("for a clean sea") campaign with a Seabin in the Molosiglio port, headquarters of the Naples section of the Navy League, and one in Genova's Ancient Port (Porto Antico).
Thanks to NN Investment Partners, another Seabin was added to those already operational along Italian coasts: in the Marina Cala de' Medici port, between Rosignano and Castiglioncello, in the province of Livorno.
With Werner & Merzt another device was installed in the Capri Tourist Port (Naples province).
The Seabin has arrived in Lake Lugano, one of the most polluted in northern Italy and Switzerland, and precisely in Porto Ceresio thanks to the collaboration with technical partner Poralu Marine and F&B Nautica, nautical sector company that operates in the Varese area.
LifeGate PlasticLess® has also reached the UK with the first device installed in the Portishead Quays Marina thanks to Whirlpool Corporation.
LifeGate supports local administrations in Italy that are committing to reducing plastic use, which causes the increasingly evident environmental disaster that is choking our planet, by assigning them a certificate. This attests their adoption of environmental policies aimed at raising awareness among citizens on the role they should take in the fight against plastic pollution.
The initiative kicked off with the recognition of the first local authorities and governments that have become involved in the issue, which can be viewed in the map below. The development of actions on the part of new administrative bodies will be monitored, rewarded and promoted through the LifeGate media network.

What you can do
Finding a solution to the problem of plastic in the seas requires everyone's efforts: from individuals all the way to businesses, together. You too can contribute concretely to the LifeGate PlasticLess® project by participating in the installation of a Seabin. How? Visit our store and make a donation. You'll receive a Mizu 8, 800 ml LifeGate PlasticLess® water bottle made in aluminium, 100% BPA free and 100% recyclable. You can choose between two versions, a simple one with the LifeGate PlasticLess® logo and the other than can be customised with a name of your choice.
Make your contribution, go to our store
There are also many virtuous behaviours, simple daily actions that can help prevent pollution from reaching our seas and the environment in general, such as reducing consumption of products packaged in plastic, preferring objects made in durable materials over single-use ones and separating waste correctly.
Here are some of the good practices you can easily adopt.
Partners
Seabin Project
Since 2014, Seabin Project has been developing innovative technologies for waste collection of the generic kind as well as macro and microplastics, microfibres, oil and oil-based detergents, focussing on their removal from the sea.
The Seabin Project aims to be on the frontline of researching solutions that may contribute to cleaner and healthier oceans. Seabin Project's Whole Solution Strategy consists of: technology, science and educational programmes, as well as local community engagement and the involvement of a number of industries. The Seabin V5 units, fixed to floating docks in strategic locations known as "accumulation points" reduce the amount of plastic entering the open sea. Through scientific research, the Seabin Project contributes to amplifying the literature on the negative effects on marine biodiversity and human health, with a particular emphasis on microplastics and microfibres. Through educational programmes, the Seabin Project raises awareness among consumers, both young ones and adults, towards adopting more conscientious and sustainable behaviours. Furthermore, it engages local communities and a variety of industries in contributing to the creation of real solutions to the plastics emergency. "We do our best to reduce the amount of plastic waste that from land reaches the open sea." – Pete Ceglinski, CEO.
Discover LifeGate Plasticless for the sea, with Seabin
Poralu Marine
Since 1985, Poralu Marine has been one of the world leaders in the field of harbour and marina structures, with over 30,000 berths installed, and operating in five continents.
With two productive sites in France and Canada, Poralu Marine projects are entirely in conformity with the highest industry standards and the company produces, installs and supplies a complete follow-up service.
The company's approach works in favour of sustainable development, and its global activities follow the principles of economic, social and environmental responsibility.
This commitment, aimed at satisfying all the people involved and the company's stakeholders, has become Poralu Marine's true philosophy. It begins at the heart of its daily activities: in the design of its products, its relationship with employees, clients, suppliers and the environment in which it operates more generally.
Its R&D and production office is constantly in search of new solutions to ensure the highest quality standards. All products are studied to be aesthetically pleasing, simple to use, requiring no maintenance.
Poralu Marine is part of the Nova Nautic Group, which includes the companies CEI, Poralu Bridge, Nautiscaphe and ROTAX. In addition, Poralu Marine produces and distributes Seabin V5 devices around the world.
Plastic Consult
Plastic Consult was founded in 1979 to study the industrial landscape and activities generated by what were novel plastic materials at the time,  on account of large petrochemical multinationals.
It has always remained private and independent and, over the course of the decades, diversified its areas of expertise that today are grouped into three synergic divisions:
– Business Insight, specialised in studies of synthetic materials, chemical and petrochemical sectors, as well as related areas (energy, environment, waste, etc.);
– Business Finance, supplies effective and continuous support to the owners of Small and Medium-sized Enterprises, working together with them in managing all strategic aspects;
– Environmental Division, expands the historic offer of strategic studies for large clients, offering outsourced operational consultancy services in waste management and the development of virtuous supply chains, so that SMEs may increase sales while improving customer loyalty.
Confindustria Genova
Confindustria Genova is a business association that adheres to the Confindustria system, which proposes to contribute to the economic growth and social progress of its territory together with political institutions, and economic, social and cultural organisations.
The Association's members are companies headquartered in the Genoa Metropolitan Area and engaged in the production of goods and services with an industrial-type structure.
Today Confindustria Genova represents a thousand businesses for a total of around 52,000 professionals who operate in sectors such as mechanics, ICT, naval construction, port logistics, energy, health, tourism and advanced tertiary ones.
Attention to environmental sustainability and, more generally, to the circular economy is a priority in Confindustria Genova's activities. The Association promotes training seminars, events and editorial interventions on the topic, as well as supplying services aimed at member companies.
Istituto per gli Studi sul Mare
Since 1996 the Istituto per gli Studi sul Mare (ISM) (Institute for Sea Studies) has been operating in the field of communication, as well as scientific and naturalistic dissemination. In the design and production of its products, ISM boasts the collaboration and support of research institutions, researchers and academics, communicators and technicians, placing particular attention on its initiatives' high profile, the scientific rigour of the materials produced, and on being constantly up to date from a scientific point of view.
ISM has dozens of initiatives aimed at the public, such as theoretical and practical courses as well as events, exhibitions and editorial products. In particular, its practical marine biology courses are the characterising element of ISM's activity, it being the only entity in Italy that offers formative products that take place entirely in marine locations or at sea, studied especially for the diving public, in the "basic" and "advanced" options, as well as sea enthusiasts generally.
ISM works towards the objective of offering the tourism sector a new way of travelling and discovering the marine environment, and raising awareness among scuba-divers and all those who enjoy the sea in order for them to become more conscientious towards the submerged world.
Verdeacqua
Verdeacqua is a highly specialised team operating in the scientific and environmental education field, capable of creating didactic and edutainment activities and projects for subjects starting from small children all the way to adults.
Its action is diversified, not only with a particular attention towards the scholastic world, but with a strong predisposition towards training teachers in the field of new technologies – but more generally aimed at families, adults, and Science and Nature enthusiasts.
Its collaborative and coordination activities with companies and public institutions have always been strong. Companies, to whom it offers services aimed at employees and their families, have always supported it as technical and economic sponsors, as well as in the organisation of exhibitions and events. It has also engaged with national research institutions such as ENEA and CNR, and state institutions such as the Italian Navy and National Hydrographic Institute (IIN). Of note are collaborations with the Lombardy Regional authority, the Province of Milan and a number of municipalities in the Milanese hinterland, which whom it has activated a number of projects connected to the scholastic world, but not only. Since 1994 Verdeacqua has directed the didactic sector of the Milan Civic Aquarium.
Its philosophy is articulated, oriented towards the pleasure of telling children about the world, facing potentially difficult topics with them, which can be sources of fun and, most importantly, reflection. With adults it works on training and raising awareness to contribute to the expansion of a more mature, prepared and conscientious public.
Its story stems from wanting to give answers in the scholastic environment, but Verdeacqua's dynamism lies in having invested in experimenting novel means of communication. In a changing world, young people are privileged witnesses and precious interpreters of what is happening and will take place. For this reason it considers adults and children not as "subjects" on which to intervene, but as "protagonists" to engage with.
Teksea
Thanks to a diversified experience in a number of technological sectors, as well as training in sustainability including from the Cambridge CISL, the Teksea team supplies customised consultancy and support on innovation and sustainability; researching, developing and promoting technologies as well as innovative processes for its clients. Sustainability is a fundamental value that every company, even the smallest, must embrace by defining its own roadmap. Teksea accompanies clients in defining this path.
Assomorosini
Assomorosini is a non-profit organisation with social ends whose full name is Associazione nazionale scuola navale militare "F. Morosini" (F. Morosini national military naval school association), headquartered in the Venice Naval School. The ancient origins of the institute of marine training can be traced to the Marine Kollegium, when the Republic of Venice fell under Austrian domination. Among the organisation's multiple goals, embedded in its statute, is that of being engaged in prevention and monitoring initiatives with the goal of safeguarding the marine environment, ultimately contributing to civil protection activities. The organisation, relying on third parties, offers a variety of services with the aim of stipulating conventions with public and private bodies, as well as collaborating with national, European and international bodies with similar objectives.
Press
Bristol TV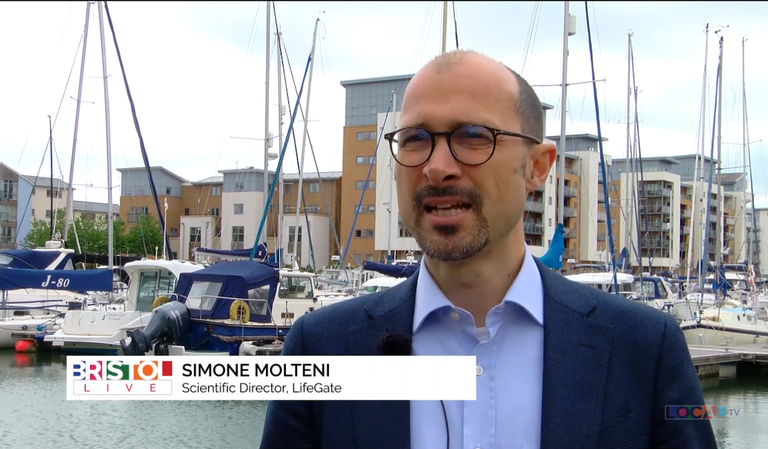 Bristol TV