Design & Fashion
Eat with your hands. The Contatto Experience extends taste to the realm of touch
The Design Academy Eindhoven exhibits the projects of its graduates during the Dutch Design Week. Among them, Giulia Soldati's social design project — about eating with your hands.
When it comes to eating, the most profound, elementary impulses and istincts of our soul, as well as of our social constraints, come into play.
Throughout the human history, the primordial gesture of eating has taken on new meanings. Besides mere sustenance, eating has become an essential moment for society. It reflects national traditions, regional customs, family values and rituals, slowly evolving between tradition and innovation.
Rethinking some of the key elements of this social act is the aim of Italian designer Giulia Soldati. Her final project at the Design Academy Eindhoven's Social Design Master, in the Netherlands, proposes an innovative, unexpected, sensual, funny yet worthy experience: the Contatto Experience.
"Giulia Soldati gave a performance in which food and body merge in a new way," writes Thomas Widdershoven, Design Academy Eindhoven director and professor at the Nanjing University in China. "To feed and to be fed interact in a new eating ritual".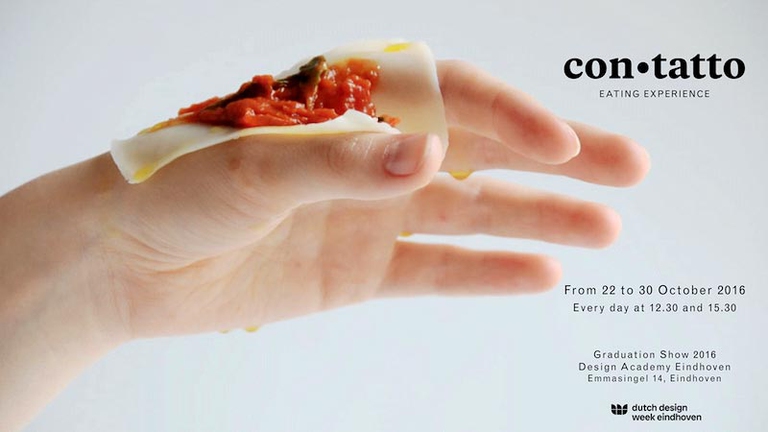 The Graduation Show 2016, in which the Italian project Contatto Experience was presented, took place at Design Academy Eindhoven, The Netherlands.
Contatto Experience
The Italian designer, starting from a functional consideration of cutlery, has hypothesised the consequences of a new way of eating that excludes their use. In an experimental way, she has studied the sensorial, social and cultural effects of a meal with no plates or cutlery.
Her approach is not totally unprecedented. Just think of those cultures that don't use cutlery while eating. In the Amazon, for instance, meals are served on large leaves and people take food from them with their hands. In Eastern Africa, injera is a traditional flatbread with spongy texture eaten with one's hands. In India people use refined gestures to roll rice into small balls. And we, Western people, do use cutlery but this doesn't mean that such mechanisation and unnatural politeness don't affect the experience of taste.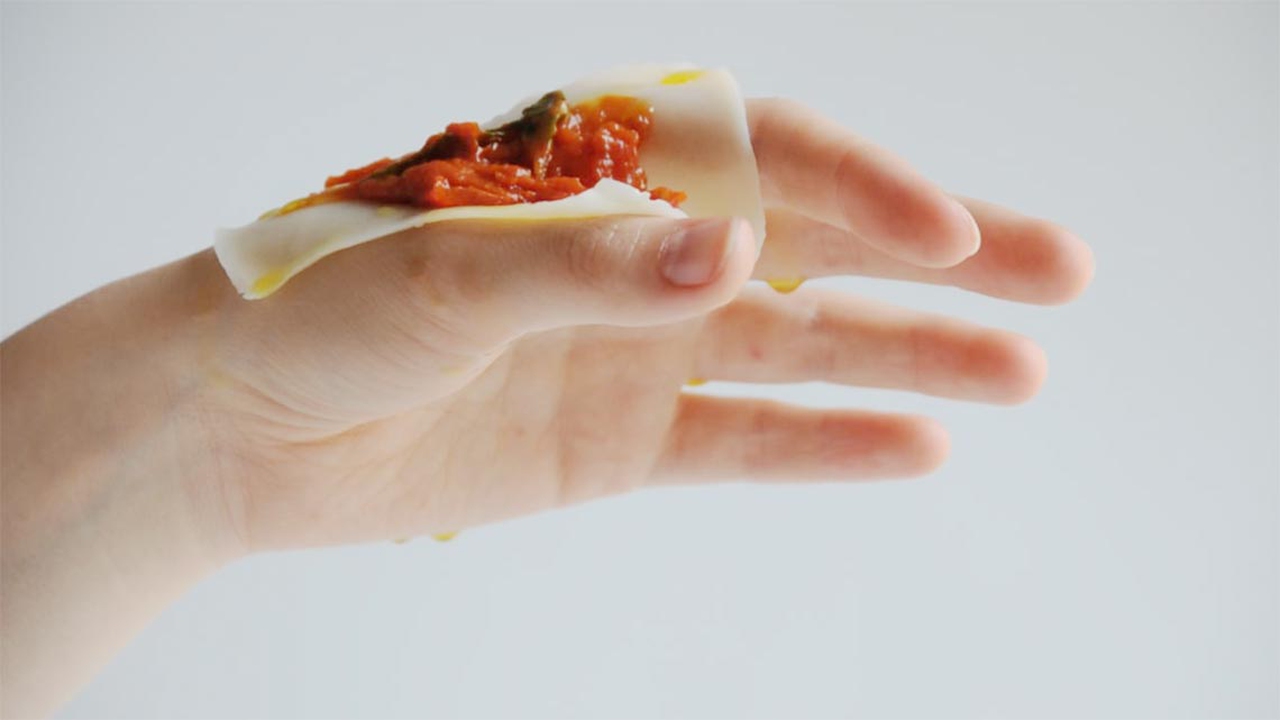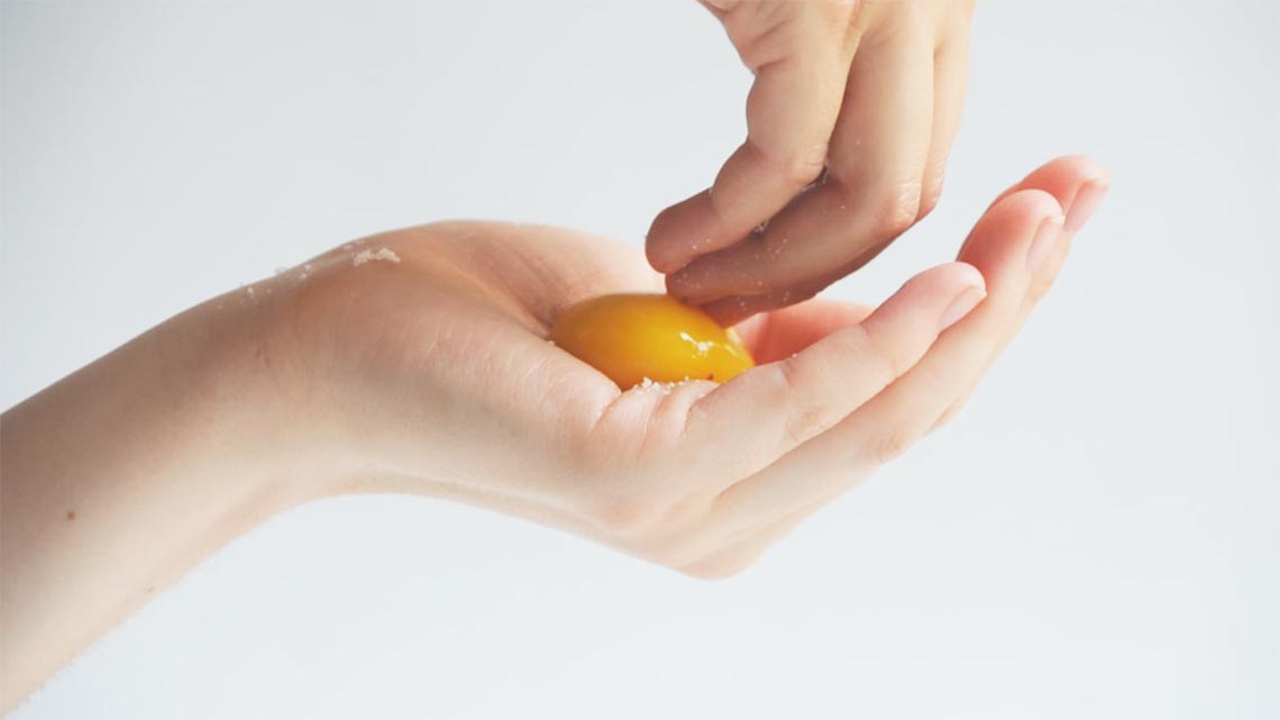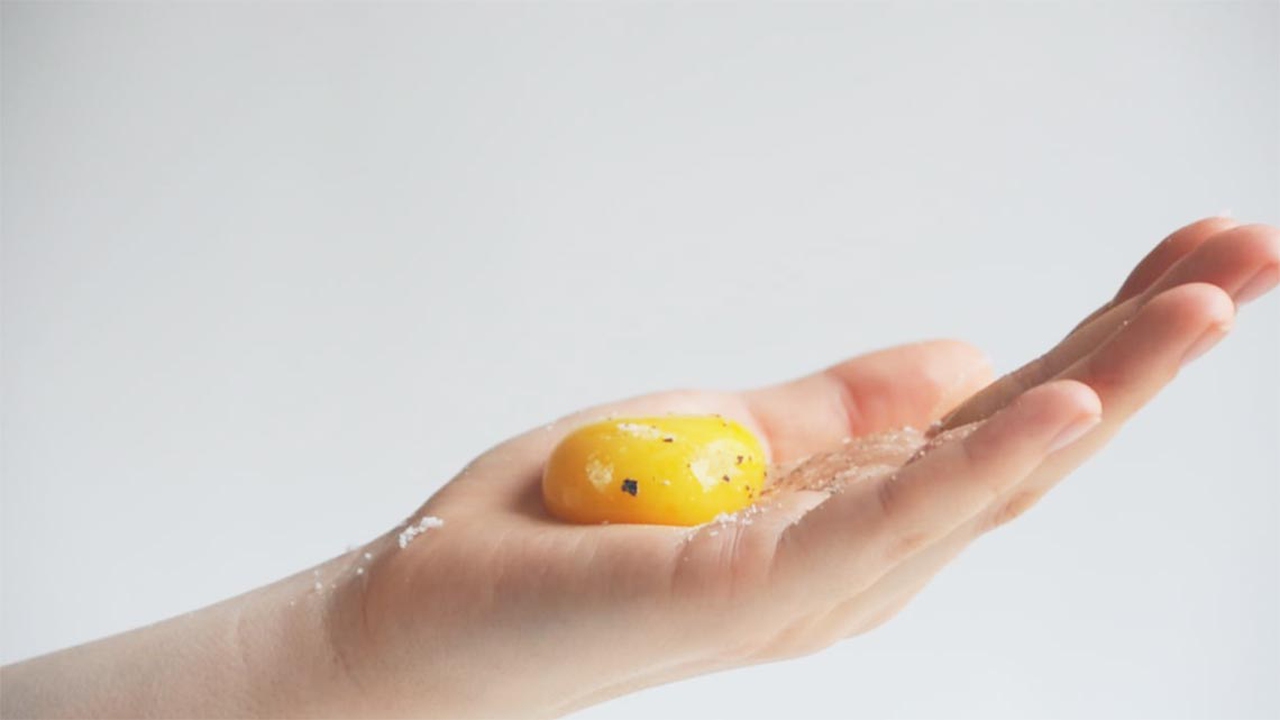 The project aims to create a new culinary culture that challenges the current eating habits, which neglect some essential sensorial experiences. Starting from the elimination of unnecessary components, it introduces a new approach to food's physicality, proposing new ways of preparing and consuming it, with the aim of getting to the essence of the human-food relationship in its most genuine level.
The Contatto Experience redesigns the act of eating. Food is served and consumed with hands, creating a direct relationship between the cook and the eater. This allows feeling ingredients on the skin even before taking them to the mouth.
On first impression, the experience could result embarrassing, but overcoming the rigidity of the gestures imposed by our culture is by all means interesting.
The positive aspects of eating with our hands
Eating with hands, just like when we were children, triggers a series of interesting and healthy consequences.
We get rid of inhibitions and social constraints; we taste food in an unusual way, through the sense of touch, which allows us to perceive food's texture and temperature before bring it to the mouth.
So it all focuses on senses and perception, allowing us to recover the primordial relationship between our hands and mouth. In a hypothetical tactile restaurant, the experience would inevitably give life to new, intimate gestures and relations between the cook and the eater, thus creating new gestures – challenging the existing ones – and a new vocabulary.
Giulia Soldati also explains that the experience is more likely to let an imprint of what you've eaten, as if experiencing food with hands favours the memory of ingredients.
[vimeo url="https://vimeo.com/180472825″]
Why it is social design
The new culinary culture requires selected ingredients, cautions (also related to hygiene, like cleaning one's hands with limes' citric acid), new architectural spaces, and new behaviours. The creation of a new etiquette (or table manners) is an integral part of the project because the consumption of food must have codified rules, in order to avoid messing it around.
The creation of recipes, the selection of ingredients and the way of preparing and serving food would require a complete redesign of the spaces. An ideal restaurant where food is eaten with hands cannot have separated kitchens, walls, waiters or clients sit at tables. This new, collective experience needs a rethinking of spaces, thus relying on the exchange of expertise with architects and chefs.
"My research area is studying the role designers can play in an ever-changing, chaotic society," Giulia Soldati said. "What inspires and guides my work is closely linked to my culture and home country, Italy. I use food as an instrument to explore the relationship with our body, trying to create new habits and challenging our beliefs".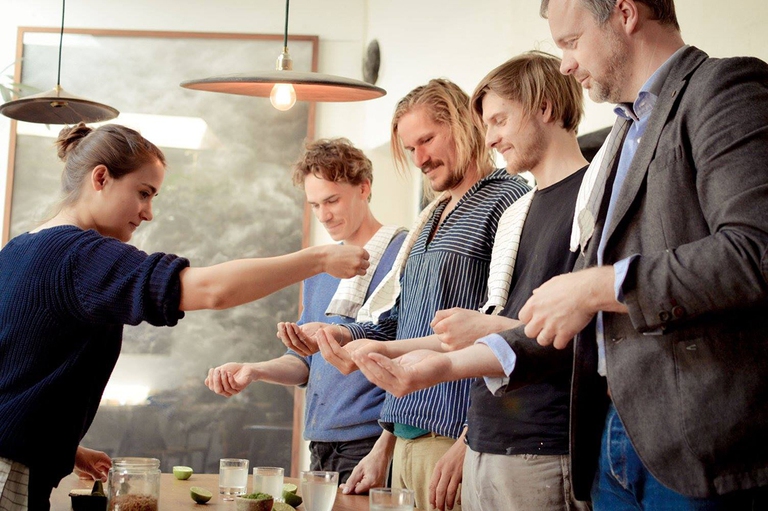 The role of social designers in a synergistic world
Designers, researchers and academics today work in a world that is constantly changing. They face complex issues that can no longer be limited to mere planning actions. They have to go beyond their own disciplinary boundaries. The Master in Social Design at the Design Academy Eindhoven (DAE) is structured to give students the necessary tools for investigating and analysing complex situations, developing personal approach for intervention. This aims to improve students' skills and theoretical knowledge of design, and create practical multidisciplinary collaborations.
Giulia Soldati's project serves as an example of this approach. It involves the art of cooking and the restaurant industry (in which Italians are masters), physiology, architecture, and social science.
How to follow Contatto
The scientific and practical developments of the project can be followed at www.contattoexperience.com and at the project's official Facebook page.
For the future, the project could be involved in sociological and physiological research, collective artistic experiences (like the one carried out with the artists of the Festival Ciudad Jardìn Alt Empordá), team-building activities, and experiments in cutting-edge restaurants.
All in all, the project offers some useful and intriguing starting points to design new spaces, explore one's senses, and recover a more genuine and immediate contact with what we're eating and, therefore, what we are.
Translated by Camilla Soldati

Quest'opera è distribuita con Licenza Creative Commons Attribuzione - Non commerciale - Non opere derivate 4.0 Internazionale.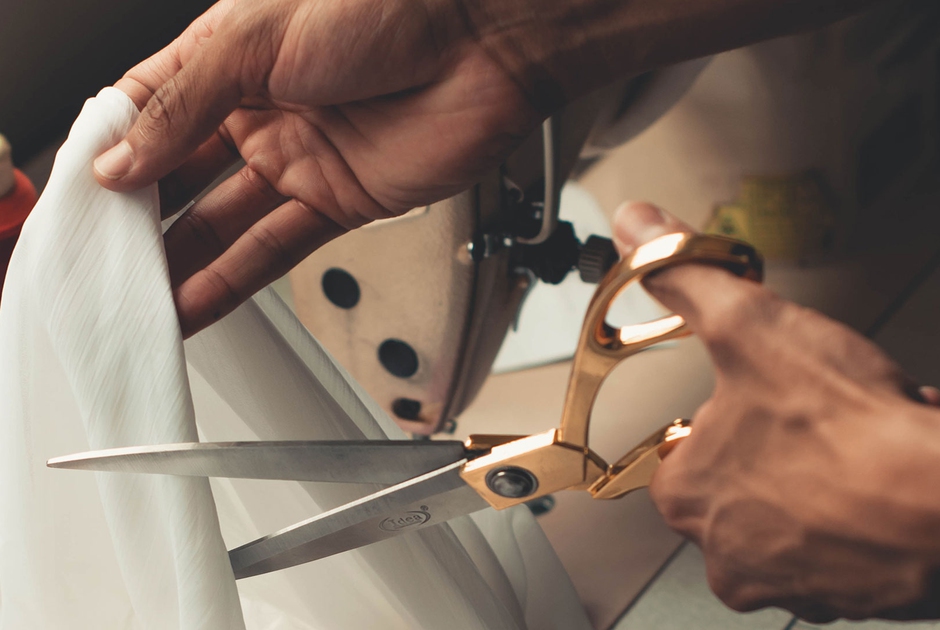 By recovering clothes discarded in the West, Togolese designer Amah Ayiv gives them new life through his high fashion creations.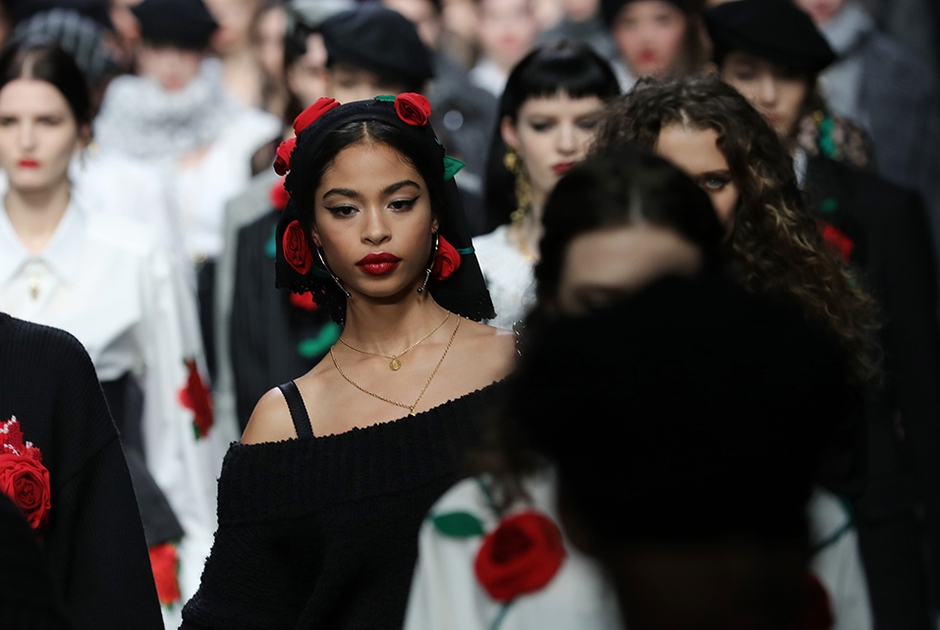 All catwalks in July will be broadcast online: after Paris, it's Milan Digital Fashion Week's turn. And the biggest beneficiary is the environment.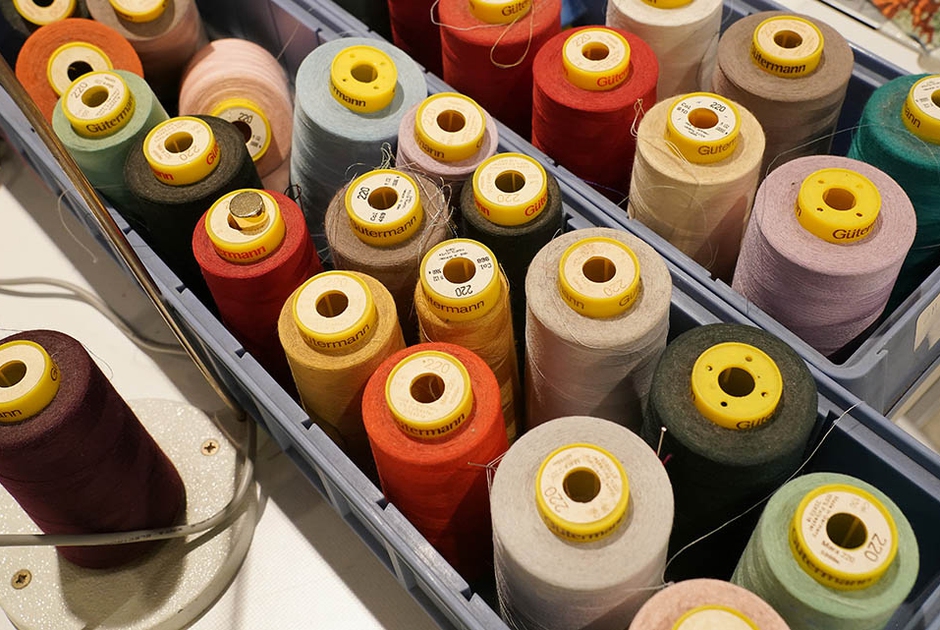 The book Fashion Industry 2030 aims to contribute to reshaping the future through sustainability and responsible innovation. An exclusive opportunity to read its introduction.