Apricot crumble
This version of apricot crumble is delicate and extravagant. Not only is the crumble crunchy but also the base made of flour, sugar and oil.

Ingredients
1 cup of flour
1/3 cup of brown sugar
1 pinch of salt
7 spoonful of olive oil
5 fresh apricots
For the crumble
1/3 cup of flour
2 spoonful of brown sugar
1/2 cup of oat flakes
1 spoonful of olive oil
sea salt flakes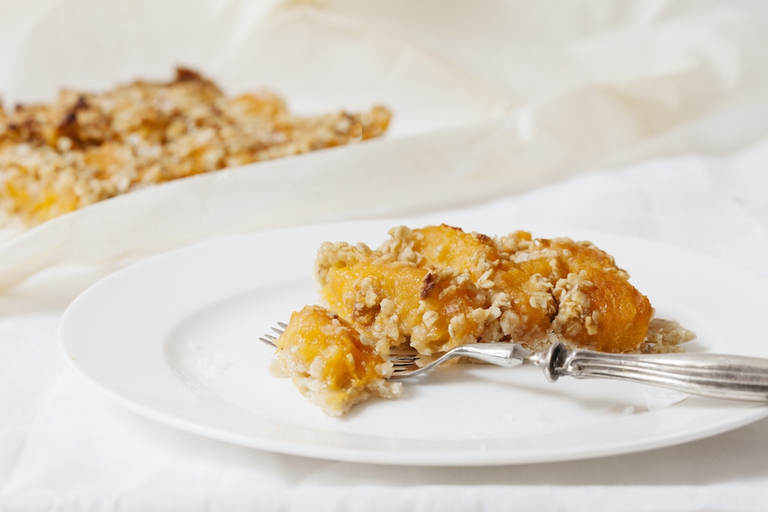 Preheat the oven at 190°C. Cover a baking tray with greaseproof paper. For the base, mix the flour, sugar and a pinch of salt in a medium-size bowl. Add the oil and stir the mixture with your hands until the dough is crumbly. Put the mixture in the tray covered with greaseproof paper, flatten the dough with a spoon and freeze it for about 15 minutes.
In the meantime, clean the apricots and cook them in boiling water for 1 minute. Place them in a bowl full of iced water in order to remove the skin and the pit, cut into small pieces and put aside. Add to the apricots all the remaining ingredients, except for the salt, with the help of a fork or with your fingers.
Remove the tray from the freezer and bake for 15 minutes. Remove from the oven and let it cool slightly before adding the apricots. Add the oat flake crumble and bake for about 25 minutes.
Finally add a few flakes of sea salt. Let the apricot crumble cool completely before cutting and serve.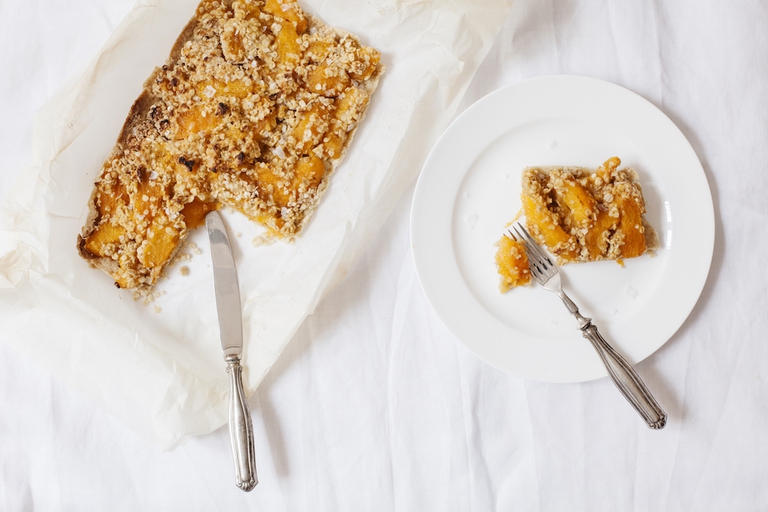 Translated by Francesca Clemente

Quest'opera è distribuita con Licenza Creative Commons Attribuzione - Non commerciale - Non opere derivate 4.0 Internazionale.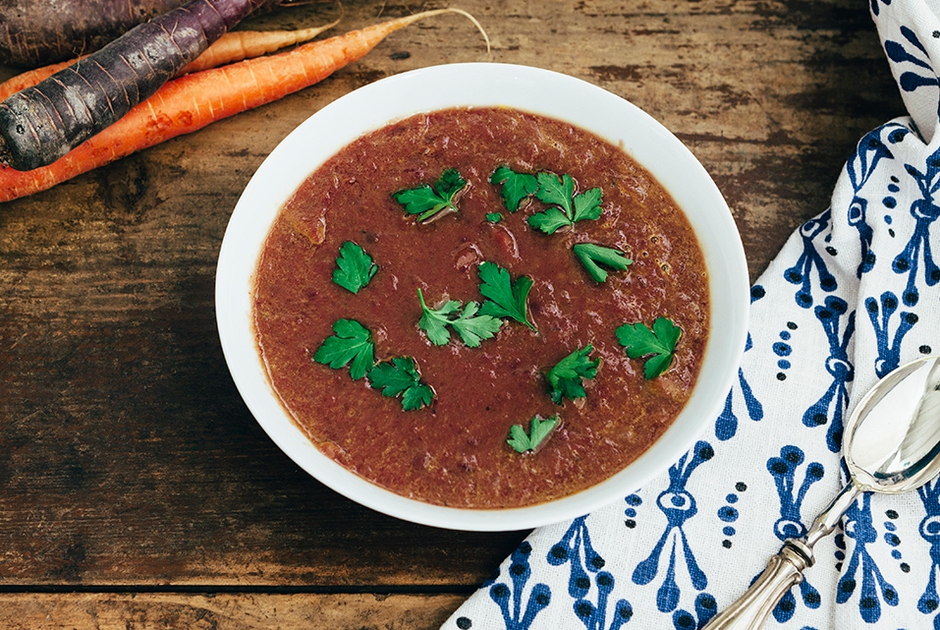 Add the parsley to the carrot and curry soup to bring a hint of colour to your table.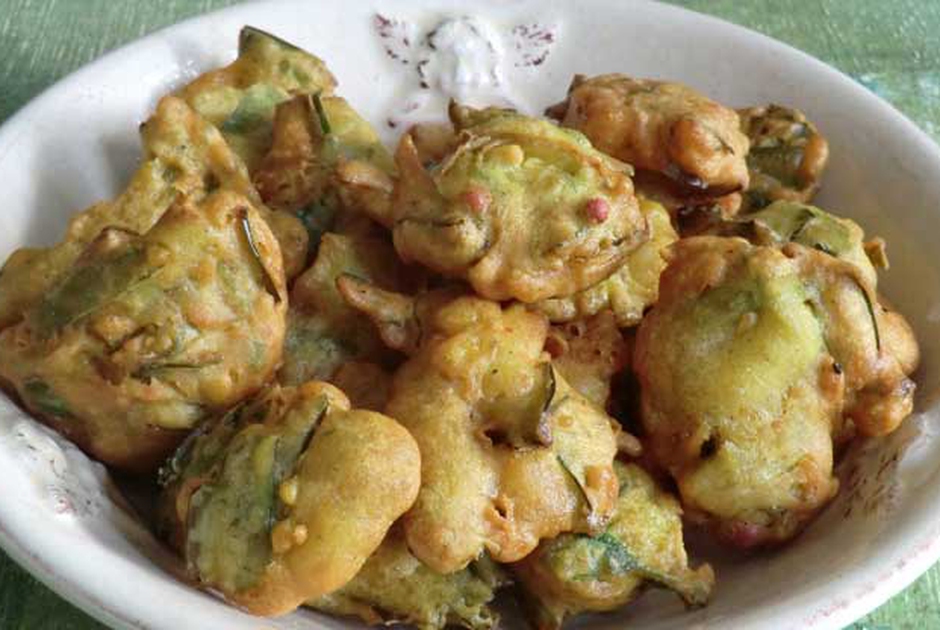 Appetizing and tasty, these leek croquettes can also be prepared with carrots, courgettes, spring onions or other vegetables, provided that they're seasonal!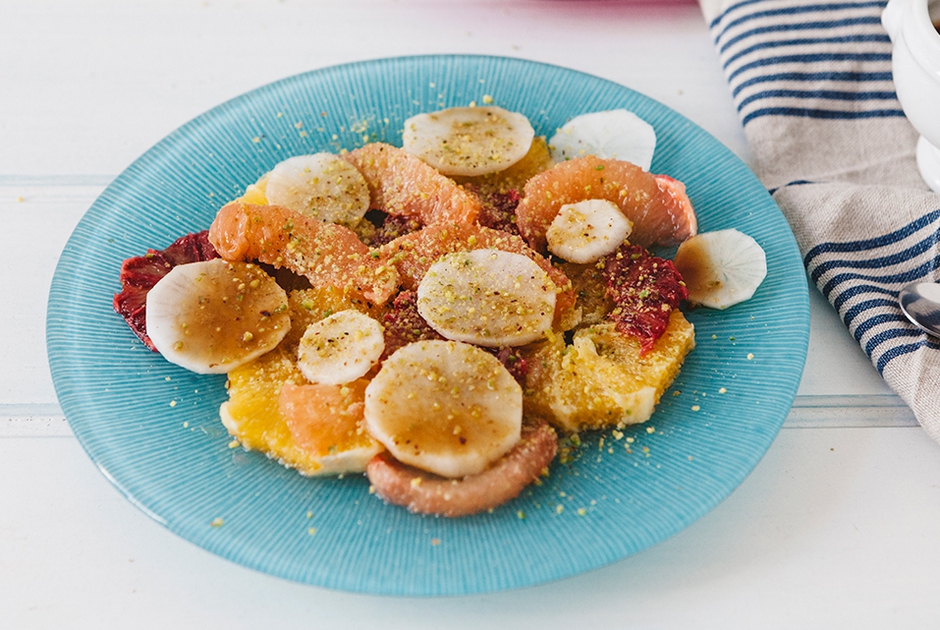 The citrus fruit and daikon salad is served with soy vinaigrette and chopped pistachios.