Design & Fashion
Felt, the history and sustainability of a versatile designer fabric
Felt is an ancient, low-impact and completely biodegradable material. It's the best natural insulator and has different applications, from design to eco-friendly architecture.
When talking about felt one can't avoid mentioning Feltri armchairs, designed by Gaetano Pesce in the late '80s and produced for the Italian manufacturing company Cassina. This is a sort of throne made of thick wool felt, made using a specially patented technique that seems to recall archaic ideas of "primitive" living. Because felt is a very ancient yet modern material that still fascinates designers and artists.
What is wool felt
Felt is produced by matting wool fibers. It is made of carded wool, i.e. cleansed and disentangled wool fibers that aren't woven. Felt is obtained by applying hot water and soap to wool fibers, which are then hand-scoured or put in a water mill that does the work. The second phase of this process, which is called "fulling", involves thickening cloth by matting wool fibers together.
Boiled wool is similar to felt, but is made of another material. While felt is exclusively made of carded wool, boiled wool is produced with carded and woven wool. It is created by a mechanical process that shrinks knitted or woven wool by a third. A procedure called carroting is adopted, instead, for making the famous Borsalino hats with rabbit skins.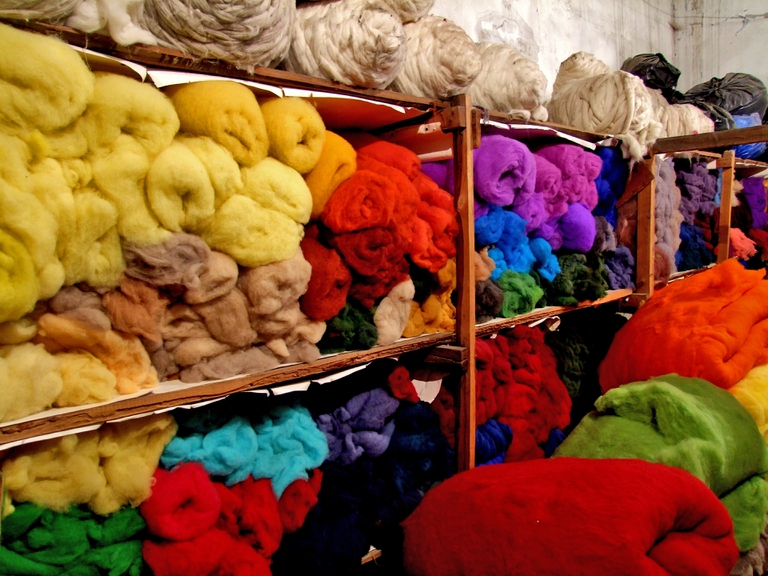 The history of felt
It is thought that felt is the first fabric produced by the humankind, probably only after textiles made of woven plant fibers. The most ancient felt artifacts date back to 3000 B.C. and come from Siberia. Other traces of prehistoric felt were found in Turkey and we know that this fabric was also used in ancient Greece and Rome to make clothes, hats and cloaks.
According to a legend, felt was invented by Saint James the Apostle. He was a fisherman and didn't tolerate the consequences of the long walks he made as a preacher. To protect the soles of his feet he decided to pack his sandals with the sheep's pieces of wool he found in thorny bushes. Then, he realised that, under his weight and with his sweat, wool had turned into a compact, soft and comfortable layer of fabric. That's how he invented felt. The first corporations of hatters considered him their patron saint; in paintings, he was portrayed as a pilgrim wearing a felt wide-brimmed hat decorated with a shell.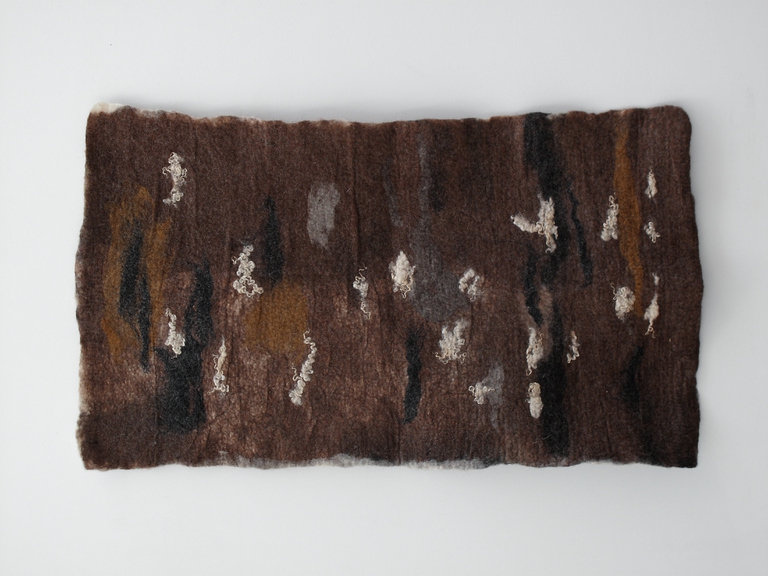 Cristiana Di Nardo, the passion for felt
There is an Italian designer, Cristiana di Nardo, who chose felt as her distinctive material. After studying the techniques to create it in Finland and some Asian countries, she spent many years doing historical, artistic and didactic research on felt. She now creates nature-inspired tapestries, 3D artworks, installations, fashion accessories and pieces of furniture, and she teaches how to produce and process felt.
"A compact, waterproof material that is resilient to general wear and tear and provides protection against bad weather, fire and weapons is obtained from separated light and delicate wool fibers thanks to the action of different necessary and coexistent elements", the designer explains. "It is an irreversible process that uses a material made of the weak fibers of the mildest of animals – sheep – and involves different stages that should be accurately followed: this process is faster than weaving, but should be done with extreme precision because once you make a mistake, you can't correct it."
Monica Castiglioni, the beauty of felt
Monica Castiglioni, a jewelry designer, has recently created a collection of felt accessories including carpets, bowls, bags, scarves and jewels called Shades of Felt. Her jewels have different nature-inspired shapes such as the flower pistil, the distinctive element of her collections, including her felt line.
"Exactly from these manufacturing mistakes – says Benazir Iskender, the young designer who curated the collection created by Castiglioni and produced by artisans working for the company Kirghisa Tumar – one can understand the true beauty of a craftsmanship. Actually they were not considered mistakes at all rather an incarnation of the essence of craftsmanship through the interpretation of Monica's ideas given by a Master of Felt working in far Kyrgyzstan resorting to his know-how and knowledge on felt and its process".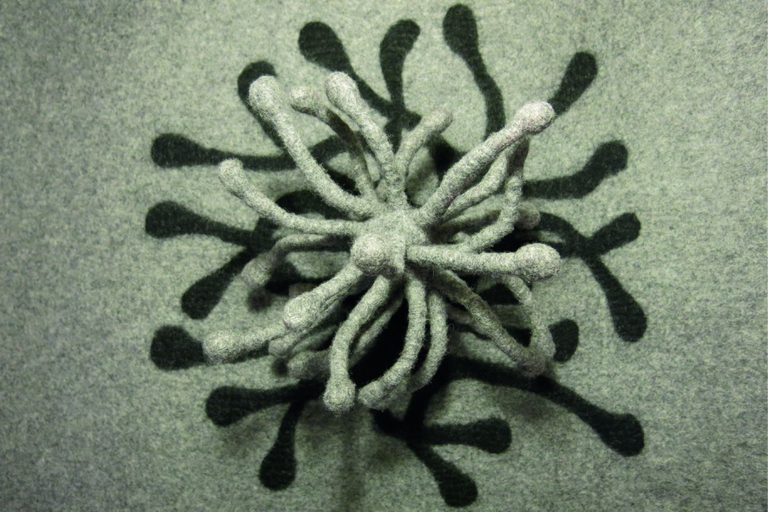 Warm, waterproof and insulating felt
Felt is warm, light, waterproof and is the best natural insulator. It provides protection against cold and heat, it covers the inner and outer walls of yurts, the portable tents used as dwelling by Asian nomads including Mongolian, Kazakh, Uzbeks and Kyrgyz people. In Kyrgyz the word "tumar" refers to a felt triangle-shaped amulet. According to the legend, if the owner wears it on their chest, it protects them for many years.
Tumar is also the name of a company based in Bishkek, Kyrgyzstan, that produces designer objects made of felt: established in 1998, Art Group Tumar aims to preserve and develop the material culture of the Kyrgyz people through the creation and promotion of modern, functional and high-quality craft products made using eco-friendly and traditional technologies. Here, over 200 artisans work with felt and other textiles and create products with innovative shapes for design studios, using a combination of different production techniques and natural materials.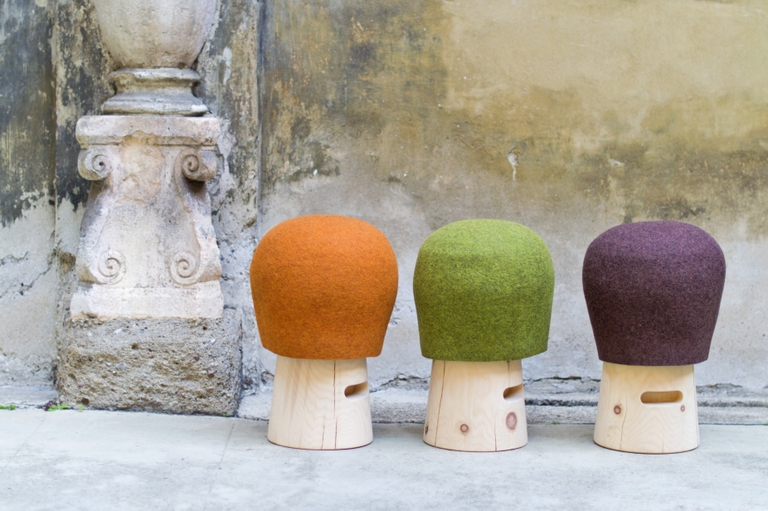 Felt used in sustainable architecture
The production of wool felt uses little energy and its physical and technical properties made it suitable for use in the field of sustainable architecture. Felt is able to absorb the sound of footstep up to 21 decibels; attenuate the sound in air by 50 percent; is flame retardant and self-extinguishing; absorbs excess moisture; has superior thermal and acoustic insulating properties; neutralises toxic substances such as formaldehyde and ozone; is extraordinarily resilient; is an organic and completely biodegradable material. So, felt is a perfect example of sustainable material used in the field of design and architecture.
Translated by Francesca Clemente

Quest'opera è distribuita con Licenza Creative Commons Attribuzione - Non commerciale - Non opere derivate 4.0 Internazionale.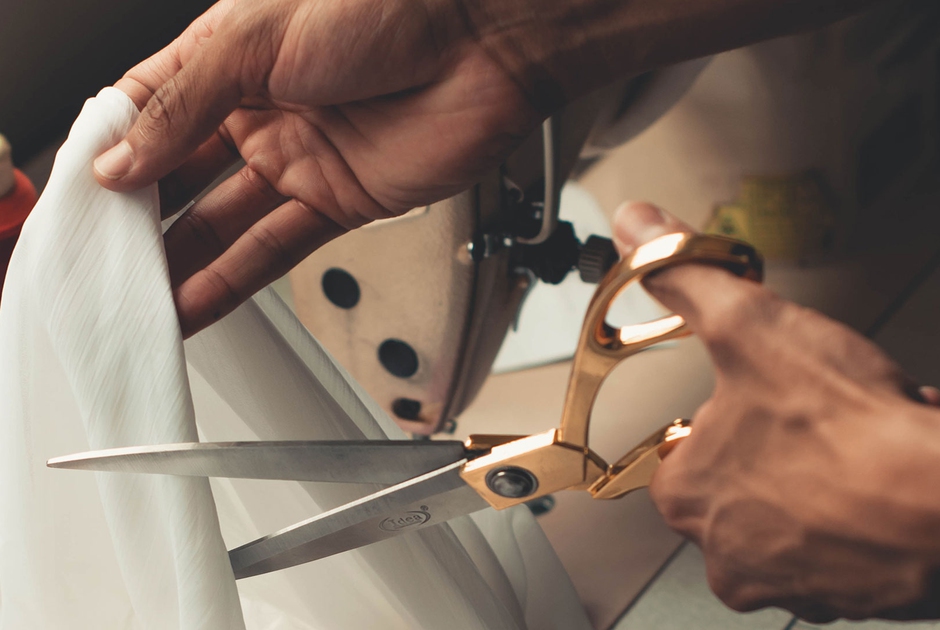 By recovering clothes discarded in the West, Togolese designer Amah Ayiv gives them new life through his high fashion creations.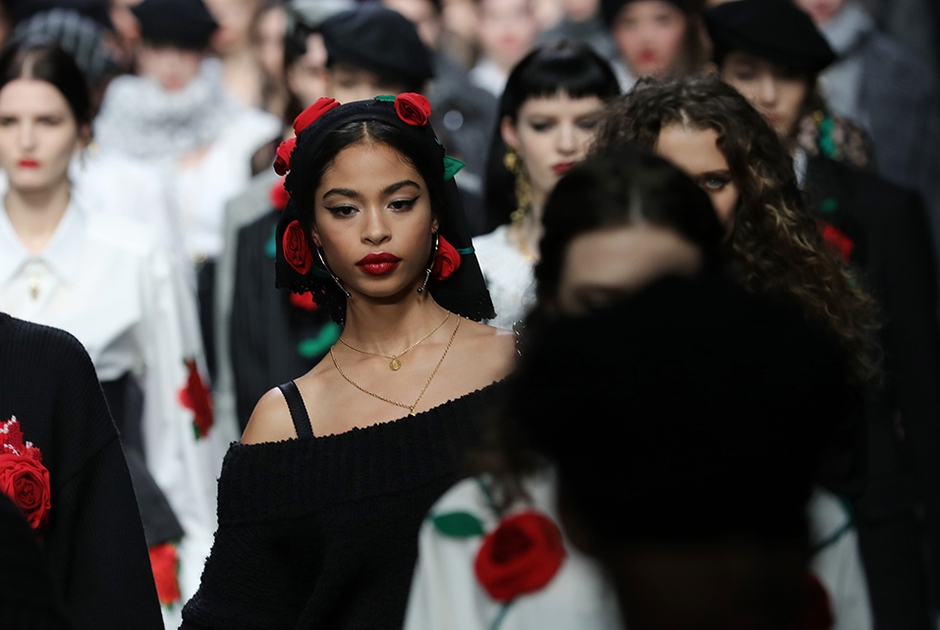 All catwalks in July will be broadcast online: after Paris, it's Milan Digital Fashion Week's turn. And the biggest beneficiary is the environment.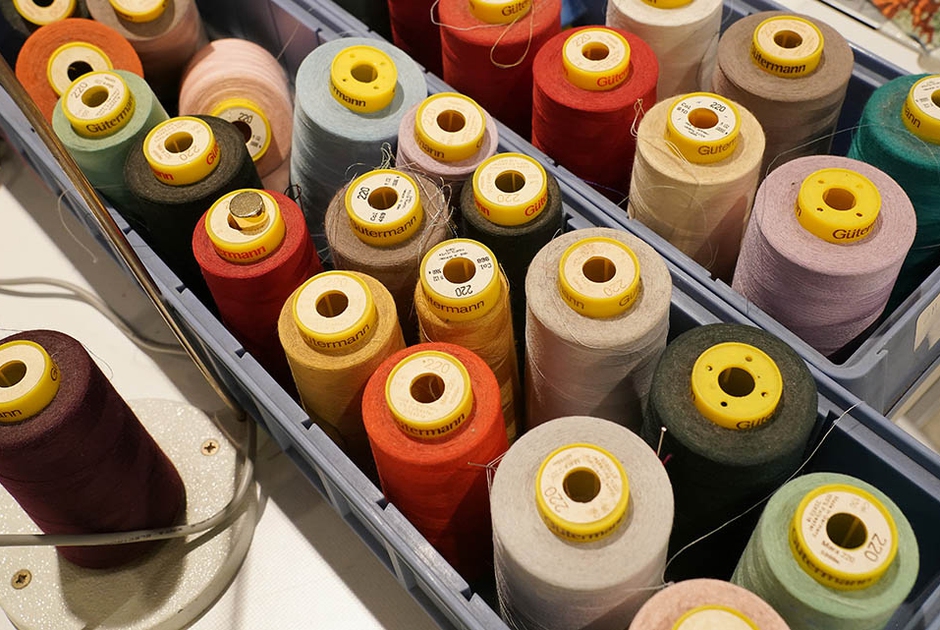 The book Fashion Industry 2030 aims to contribute to reshaping the future through sustainability and responsible innovation. An exclusive opportunity to read its introduction.