Women, motherhood, and science in Colombia
We meet the women working to reverse trends of disengagement with studies, normalise motherhood in universities, and counteract gender disparities to improve access to academic careers for Colombian women and mothers.
Large gender gaps still exist in many parts of society. This is the case in the field of science, where women around the world generally receive smaller scholarships than their male peers and tend to have shorter and lower-paid careers, according to the report "Women in Science, Technology, Engineering, and Mathematics (STEM) in Latin America and the Caribbean", published by UN Women and UNESCO. Colombia is no exception to this trend: according to a study by the Development Bank of Latin America, CAF, about a third of the cases of dismissal from women's studies can be attributed to pregnancy or motherhood.
A difficult balancing act for student mothers
We visited the campus of the National University of Colombia in La Paz, Cesar – a region that used to have almost no University presence. Most of the students here are the first member of their family to attend University, according to surveys carried out by the institution. There are almost 30 women with children – several of them single mothers. This University is making a great effort to allow these women to keep studying.
Angie and Ezequiel
Angie Paola Simanca Rodríguez, 21, is studying Biology. She is also the mother of 11-month-old Ezequiel. Angie is clear that juggling these two roles is not easy. "Many times, I don't manage to complete all my assignments for University because I can't disregard my son. Everything becomes more difficult, but it feels so necessary because, now that I have my son, I feel – even more strongly – the need to improve myself and get ahead, to become someone in life," says Angie. "As I'm now a mother, I want to give my son a better future. Therefore, I feel the need to make the sacrifice of being a mother and studying at the same time. To provide through my studies and my motherhood. Being a mother and studying are both difficult. University is demanding. I've never had to read so much, never had to stay up so long reading as I do now at this university. It's really difficult. But good at the same time."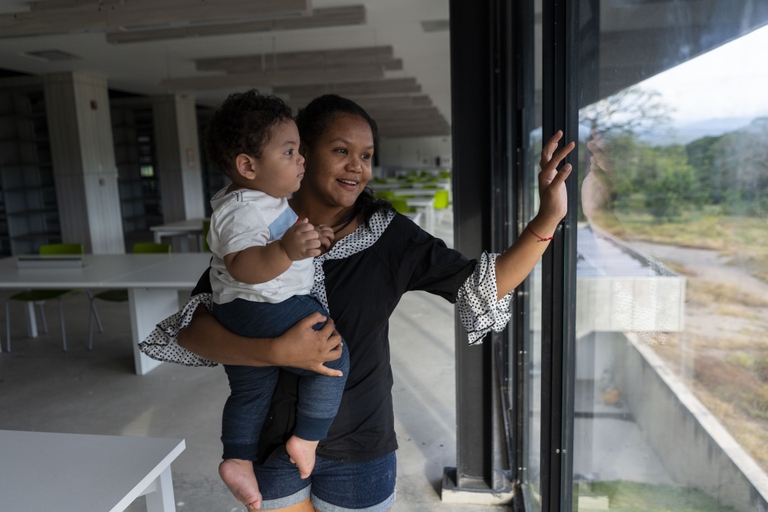 11-month-old Ezequiel is with us during the interview. Sometimes he coughs or makes loud noises, making it difficult for us to continue our conversation. It makes me think of how it must be for Angie when she has to study while doing motherly tasks, often literally at the same time. She is alone with her son. They live with Angie's mother; sometimes her aunt helps her with Ezequiel as well.
"I dedicate myself to my son – more than studying. When he is asleep, I try to do a lot of work. My son has been sick, I've had bad nights with him. And despite all these bad nights that I have spent with my son, I have still been able to do my work for the university. My mind doesn't allow me to be aware of my son and of my duties for the university. Sometimes – many times – I have no one to take care of him. When this happens, I won't even go to university because if I do, it's a waste of time. If I leave him with my cousin and come to the university, I video call her to see if she has bathed him, given him food, changed his diaper. All these things distract me too much. Even if I'm at home with my son he makes it hard for me to attend virtual classes. I have to watch the recorded classes when my son is asleep so I can understand what the professor says. Because, while they are giving the virtual class and explaining, Ezequiel might put a pen in his mouth, or be at risk of falling out of bed, or maybe he's going to hurt himself. All of this means that suddenly I cannot comply with all my university activities because, if you are a mother, the first priority will always be the well-being of your child. This is my dilemma," Angie explains.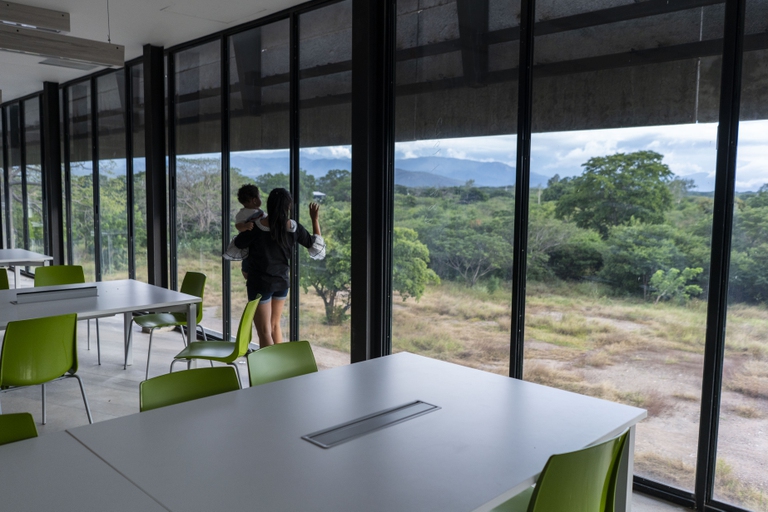 Also, Angie's journey to enter the University has not been easy. First, she took the entrance exam four times at another university in Valledupar, trying both Nursing and Opencast Mining – she didn't pass. Her mother suggested she try the new National University of Colombia campus in their region. However, Angie had little hope after the four rejections, and she didn't know much about the available career paths either – like Biology, for instance.
"I told my mother, 'I don't know what this career is good for. Biology? I don't know what that is for. I don't know what a biologist is'. So, I grabbed my smartphone and googled it. It said Biology is the science of living beings. 'Oh, that's interesting', I said to my mum. 'I will give it a try with Biology'. So it's not my life project or anything, it was the opportunity that was given to me, and I took it. My plan was to study, prepare myself, and then have my child. But sometimes we are irresponsible. Also, the lack of communication, of orientation, makes us make bad decisions. Here is a small example of that," says Angie, pointing with her eyes towards little Ezequiel.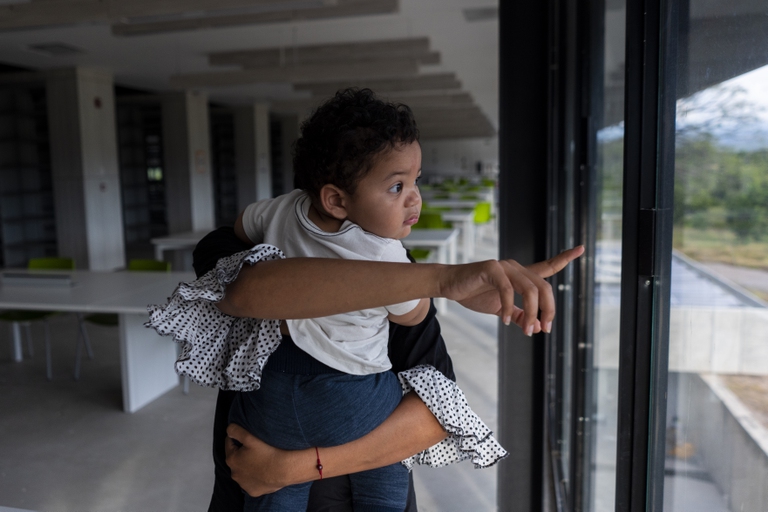 "Being a mother and studying at the same time is very difficult for me. The most difficult thing is thinking that I am denying my son the time that he deserves. And that I am neglecting my duty to study. I feel like I don't have enough time to fulfil the two tasks as I would like," says Angie. But becoming a mother has also been an important lesson for the 21-year-old. "Providing for my son has also become a goal of my life. Since having Ezequiel, I am more organized with everything, including money. Washing clothes, preparing food, studying… there is a task for every hour of every day. I no longer have any time to waste. Now I must be more focused on what I have to do. Almost everything in my life is scheduled because, in reality, I don't have enough time". Our conversation ends with Ezequiel crying, as if to underline the point his mother is making.
Intersecting inequalities
According to UNESCO, 29.3% of researchers globally are women. Yency Cardozo Vazquez is a physiotherapist and part of the health team at the university. "The region has a very complex history with paramilitarism, with the armed conflict in Colombia. There is an attempt to rebuild from the peace process, to find new ways of living and inhabiting the territory. We have five different indigenous peoples in the area. According to our surveys, some 75% have a great amount of vulnerability! This could be low income or lack of basic services, such as drinking water. We have a population of single-mother families, doing informal work in the region, which does not provide constant income, who could transform their daily lives and their social mobility. So, these students who arrive are, for the most part, the first members of the family to enter higher education," says Yency.
"The first challenge is the multiplicity of roles: these women are mothers, students, partners – some are even caregivers to older adults. Their workday is doubled or tripled. Some tasks – such as housework and childcare, which generally take place in a private space – are traditionally understood as feminine. This is a challenge for those women. It takes a lot of courage for these women to attempt to transform their realities. To be some of the first members of their families to go to a public university, coming from an indigenous, minority ethnic, or Afro-Colombian background. It's also not easy for these women to bring change within the history of their families, to pursue new ways of living and face new challenges, to go to university, to be able to graduate," Yency explains.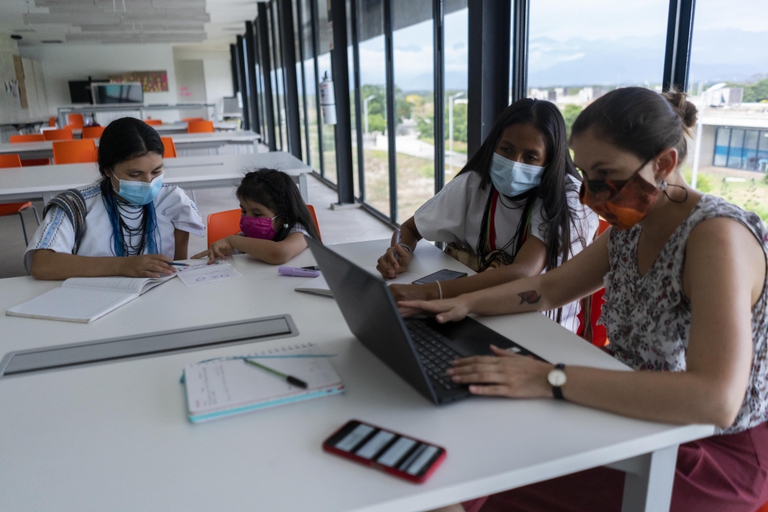 "The scenario can also mean that motherhood is felt to be a burden. The women are very brave because the situation is difficult – but if I build and share what I learned from everyday life, then motherhood can also get a not meaning within the academy as an achievement and not something that people have to endure, but something that builds them that enriches them a lot," says Yency.
Claudia and Dwiney
The new university campus in La Paz has a beautiful view of two mountain ranges. Five different indigenous groups live in these mountains, often isolated from the rest of society and, in many ways, distant from the academic world of the University. Claudia Patricia Vallejo, 26, is one of the women who is changing this picture. She belongs to the Arhuaco people and her home community is Jewrwa, some five hours' drive from here. She recalls that after getting pregnant as a 20-year-old, she faced many challenges in her indigenous community.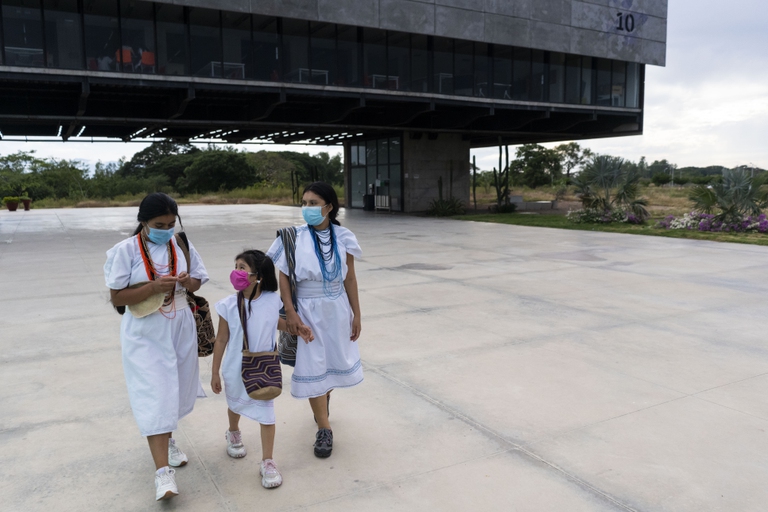 "As an indigenous person, when we find a partner or get pregnant, the family leaves everything for us to take over. At that time, there weren't really any opportunities to study. I kept dreaming that one day I would continue my studies. I wanted to. But this opportunity did not present itself. I could go to Bogota, but what were my son and I supposed to live from if I did not have any type of support?"
At the time, Claudia had finished high school and wanted to study Maths. But five years passed as Claudia and her partner were busy working and taking care of their child. During that time, they never even read a book or repeated something from their studies, Claudia recounts. "I always had the dream to continue studying. I always said, the day will come when I will be able to continue". Then one night, around seven, her phone rang. The following day, first thing in the morning, a teacher would be in the city of Valledupar to give pins to the indigenous people so that they could then take the entrance exam to the university. Claudia had no money, but she borrowed enough to be able to travel to Valledupar. The next day, at three in the morning, she left with her partner on a motorcycle. It's a five-hour drive, and they managed to get there early and get the pin.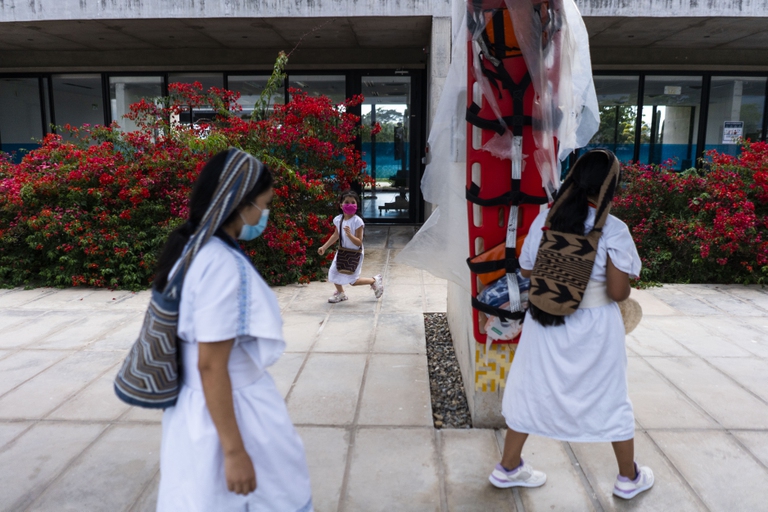 However, taking the university admission test was another major complication because they had gone five years without reading a book. Meanwhile, the challenges of parenthood remained. Claudia recalls how they had to leave her 3-year-old daughter with the guard outside the university while they were taking the admission exam. They had nowhere else to leave here and were not allowed to bring her inside. In the end, they both passed, and now they're studying Statistics together. "From then on it got very complicated. We had to be here at 7 in the morning. I had to bring my daughter, wake her up early, bathe her, dress her, we had to bring her – because she was very small, and we have no relatives here. We have nowhere to leave her. Finally, I managed to find a place for her in a nursery school. There are moments when I can manage to concentrate on what I'm doing because, for instance, I give her something to colour in for a while. But then she comes back and shows me what she's drawn, and it's easy to get distracted. Also, during group work, sometimes I can't take part because I have to take care of my daughter. It's difficult. And my course, maths, is very challenging, I have to study hard all the time," says Claudia.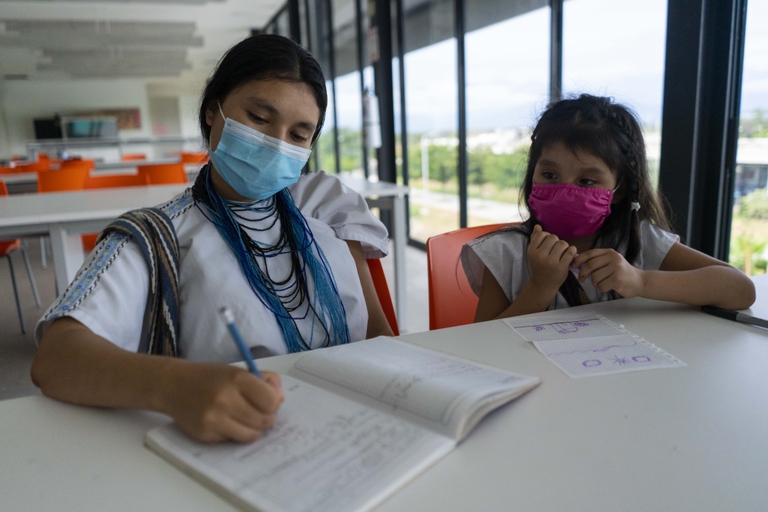 Hearing Claudia mention all these challenges and remembering her life in the indigenous community five hours away, I wonder if she's ever thought of giving up on her studies, dropping out… "There are moments of despair. For example, when my daughter was in kindergarten, she was upset because she was the only one dressed in traditional clothes while her friends weren't. She didn't want to use traditional clothes. She wanted to wear the uniform. It was very difficult for me. I already felt that she was disconnecting from our culture. Children get used to what they see most often. This worried me a lot and I started to wonder if her classmates might see her as different, and that she would feel bad, strange, alone…? There were even days when I let her wear non-traditional clothes. 'But tomorrow you'll wear traditional clothes', I would tell her. 'We can't take this away, it's tradition' – I tell her all of this. But because she is so small she doesn't understand. Even I feel that I'm disconnected from my culture. This worries me. So, in the end, by being here, I'm making her lose this. It's difficult. But giving up? No. Not after so much effort. I am also thinking about my daughter's future, about how can I help my daughter. Otherwise, she will be the same or worse off than me", says Claudia.
Parenthood and science
In Colombia, of the total number of researchers in engineering and technology, only 26% are women. At the recently opened campus of the National University of Colombia, efforts are being made to include parts of the population that have not previously had the opportunity to participate in the academic world. Lina Caballero, 37, leads an organisation called Parent in Science Colombia, which works to improve work-life balance and equal opportunities for women in science. She is also a biologist, has a PhD in genetics, and is the Director of Wellbeing at the University Campus in La Paz, Cesar. Lina is also a mother. And this is of great importance because the gender gap in STEM is still broad. In Colombia, it is estimated that, if trends continue as they have so far this century, it could take 150 years to achieve gender parity in, for example, engineering, according to research on women in science in Latin America.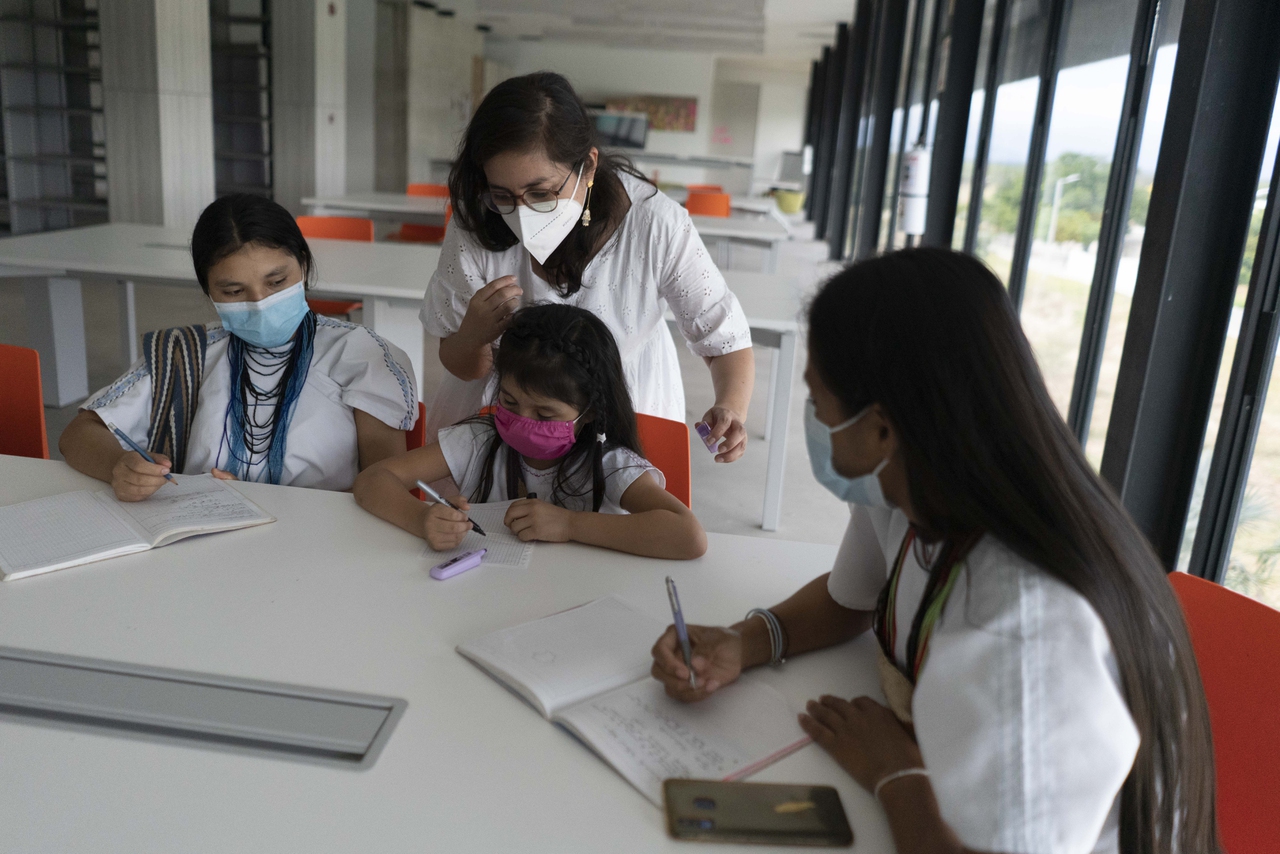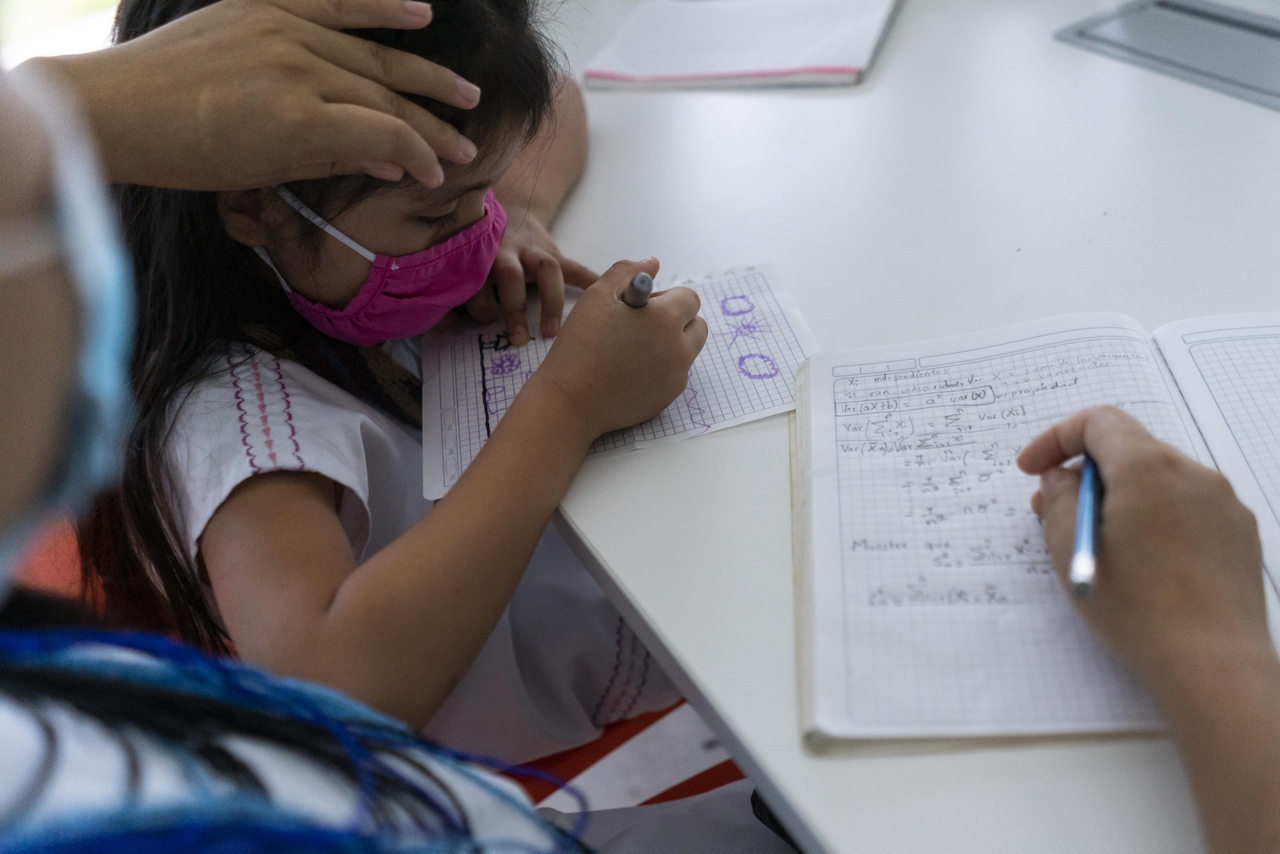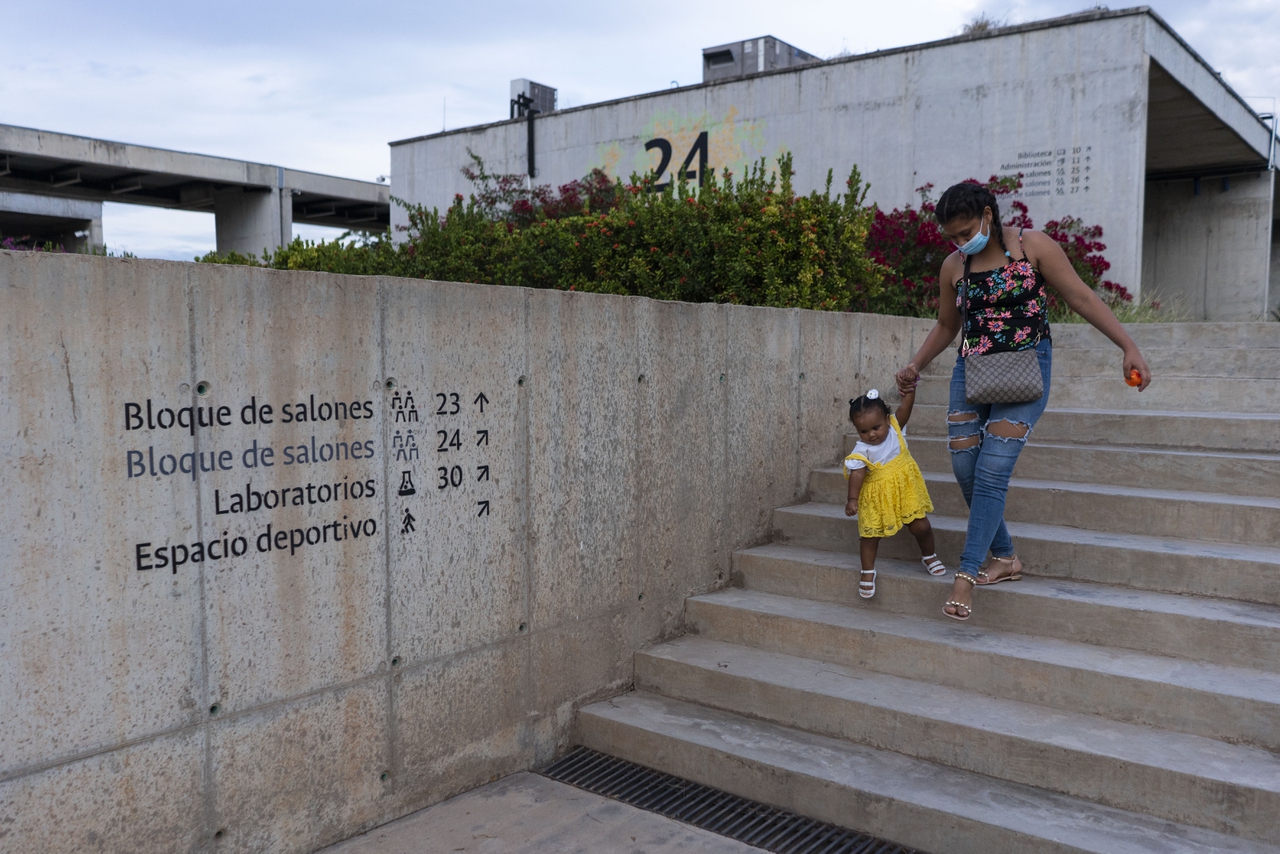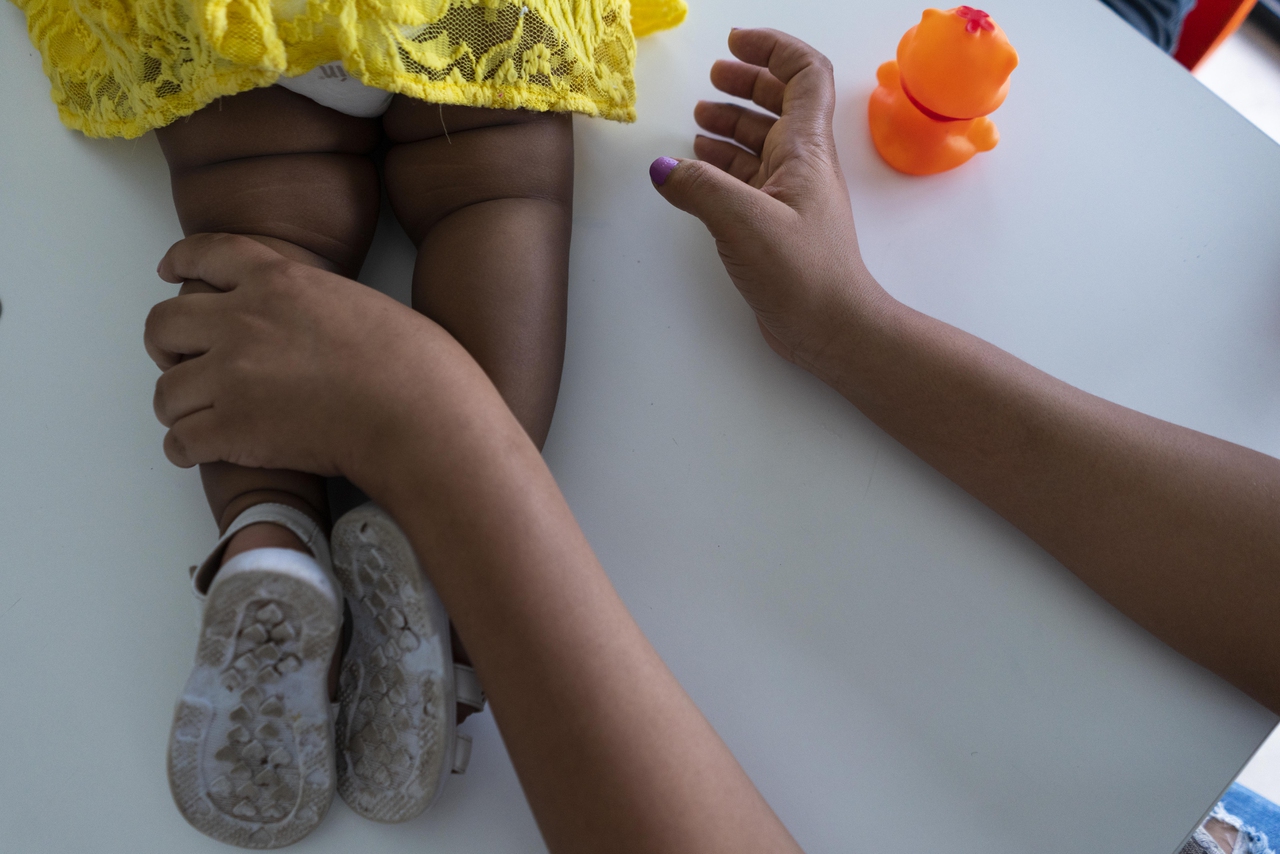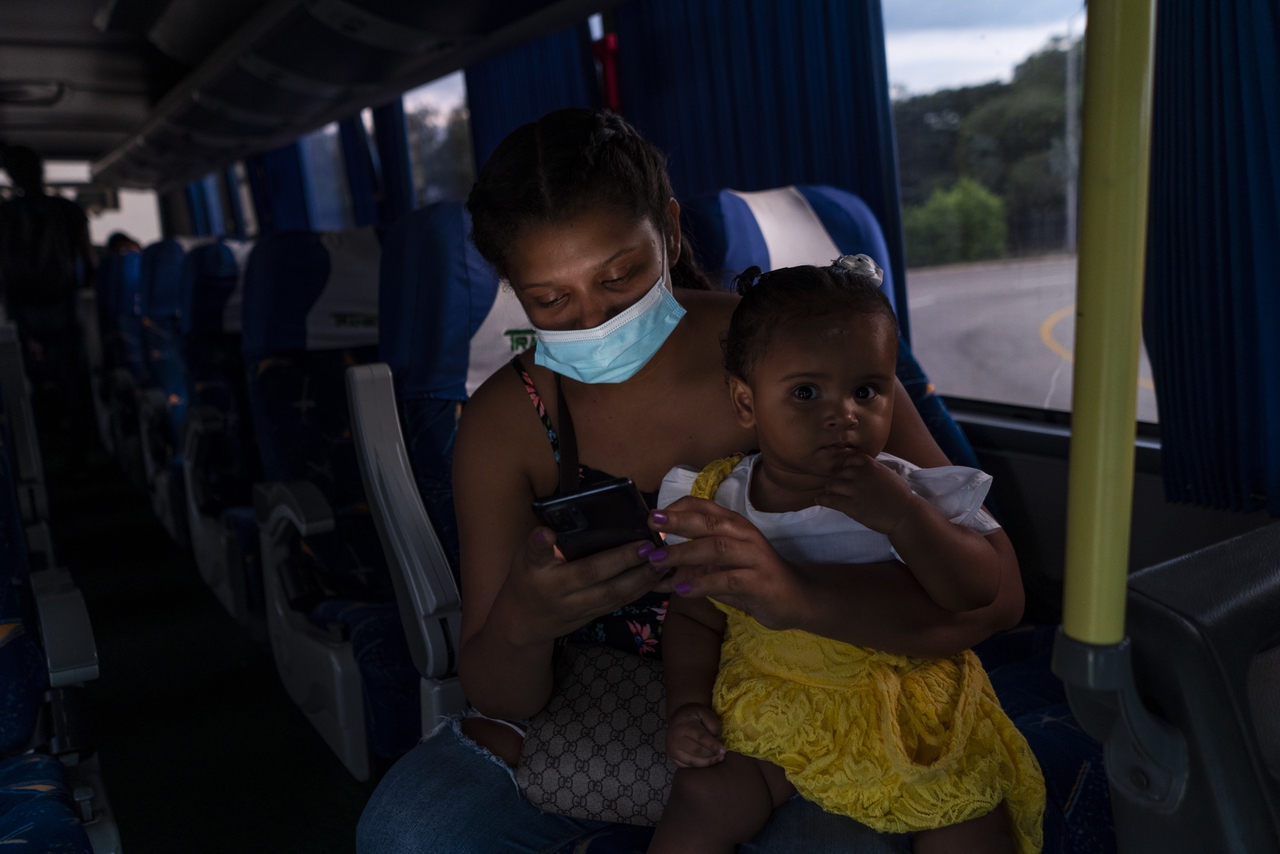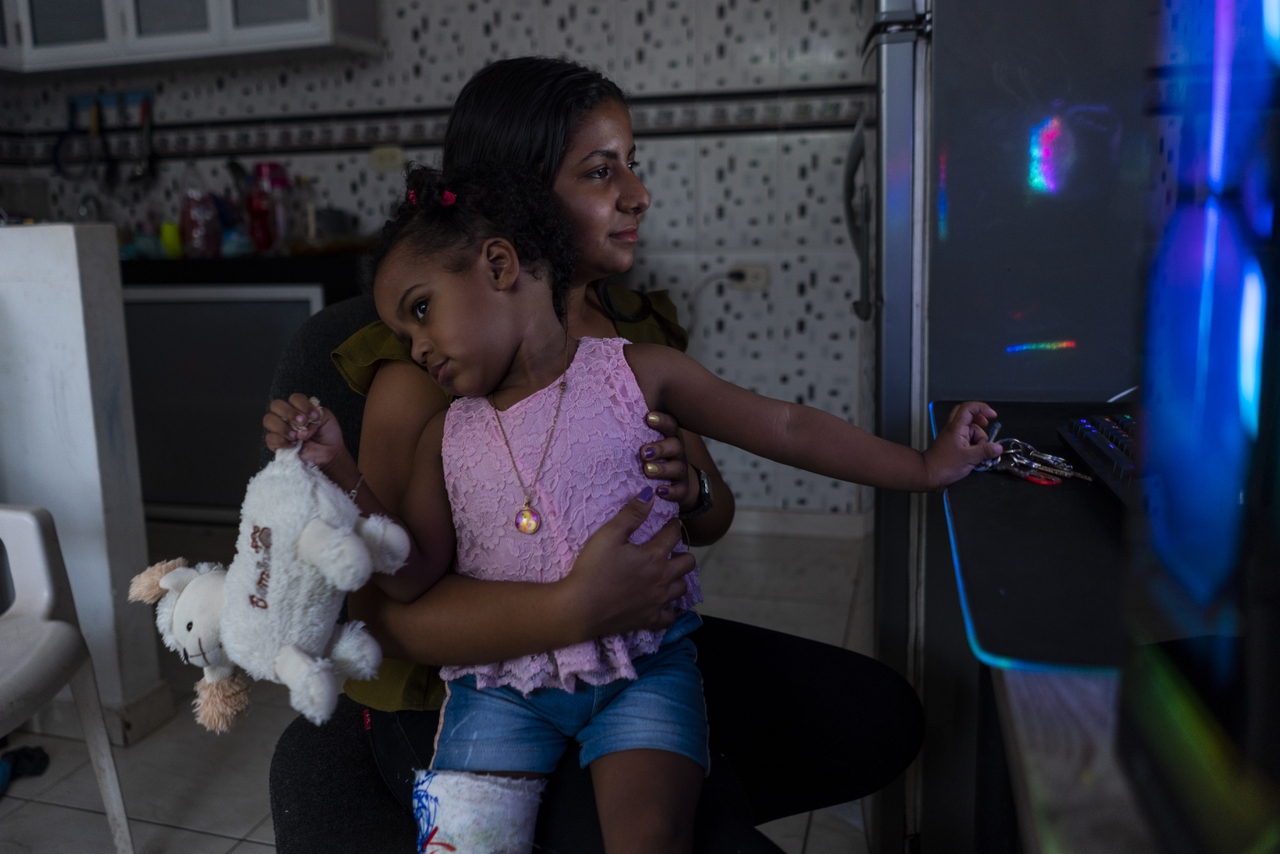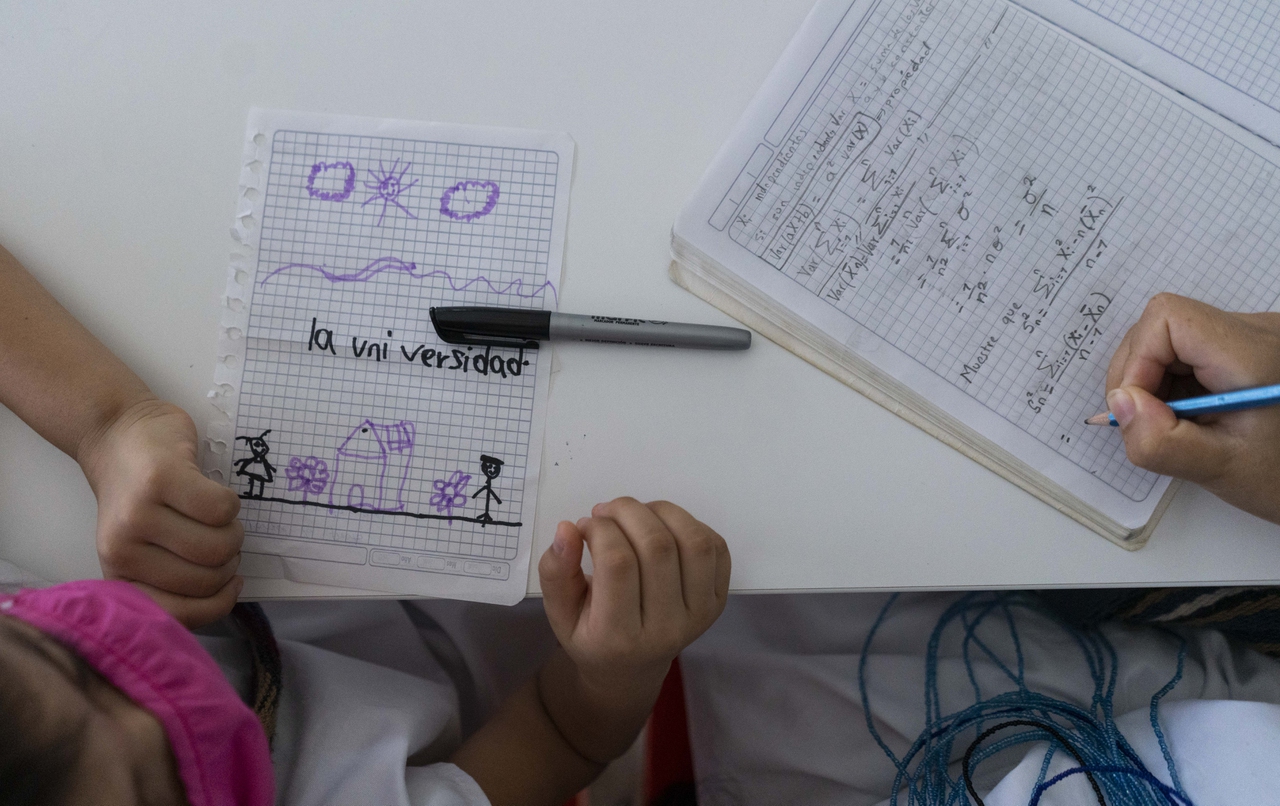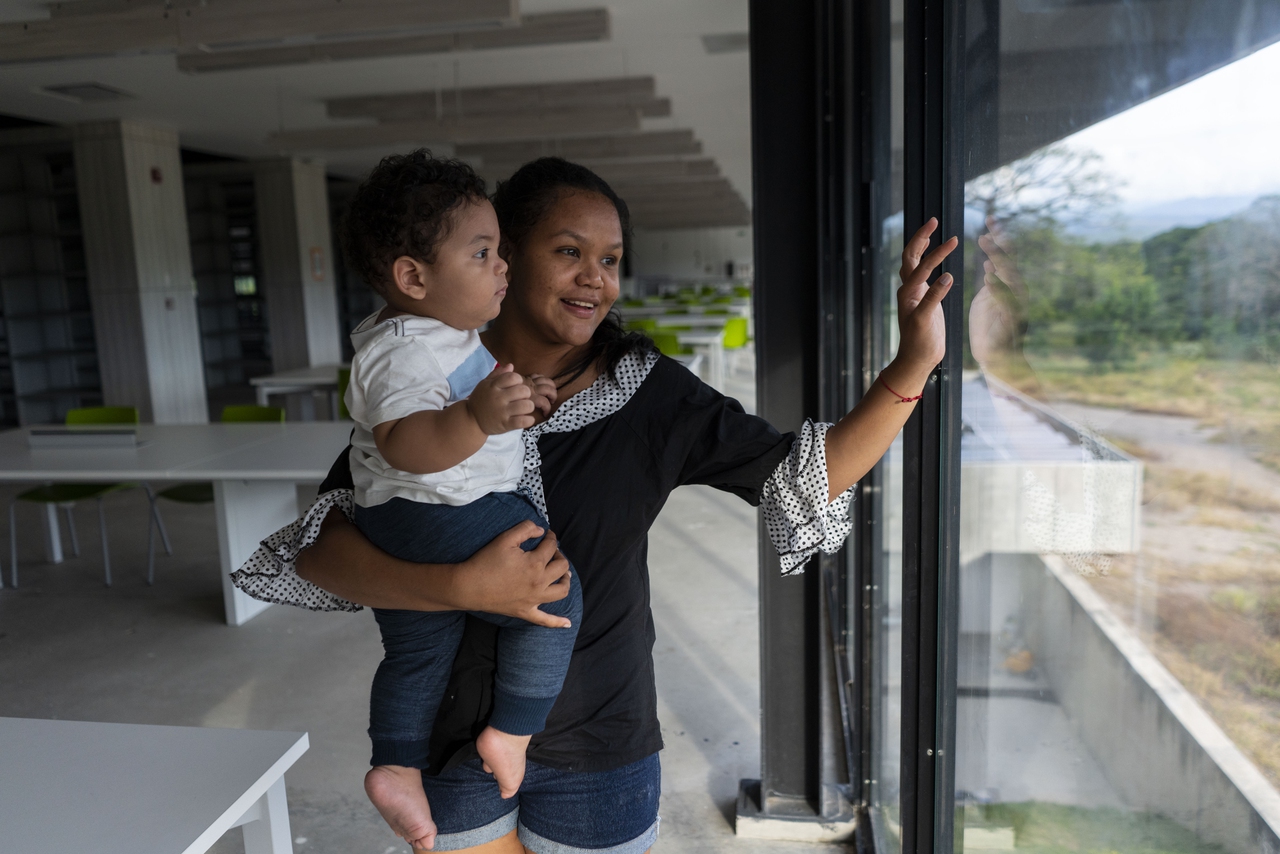 This situation worries Lina Caballero: "We are working to make this situation visible. To create strategies, to normalize motherhood and fatherhood in universities and in science," she explains. Lina left her homeland Colombia a decade ago, because of a lack of opportunities for her to pursue an academic career. She studied first in Brazil, then in Germany and she has completed a doctorate. Then, she decided to return to Colombia to work to improve these issues. Another major challenge is the lack of data on the area. "There is still a lack of data on the differential impact of care roles in scientific careers and about the unequal impact of motherhood on scientific productivity. These data are deeply needed in order to generate actions and policies at the institutional level to support many academic women who are mothers," says Lina.
In Latin America, Parent in Science is a research-led movement to evaluate and measure the impact of children on careers. From these data, the researchers hope to contribute to the discussion of strategies that allow the empowerment of women who are currently studying or working in STEM areas. The movement believes that data is the first step in bringing about the changes that are required. "This is important for ethical reasons, to include everyone in science. We miss a lot of talents if we only value male researchers. Also, if there are no women conducting research – it is difficult that gender issues will be part of those investigations too," explains Lina.
February 11th is the International Day of Women and Girls in Science proclaimed by the UN.

Quest'opera è distribuita con Licenza Creative Commons Attribuzione - Non commerciale - Non opere derivate 4.0 Internazionale.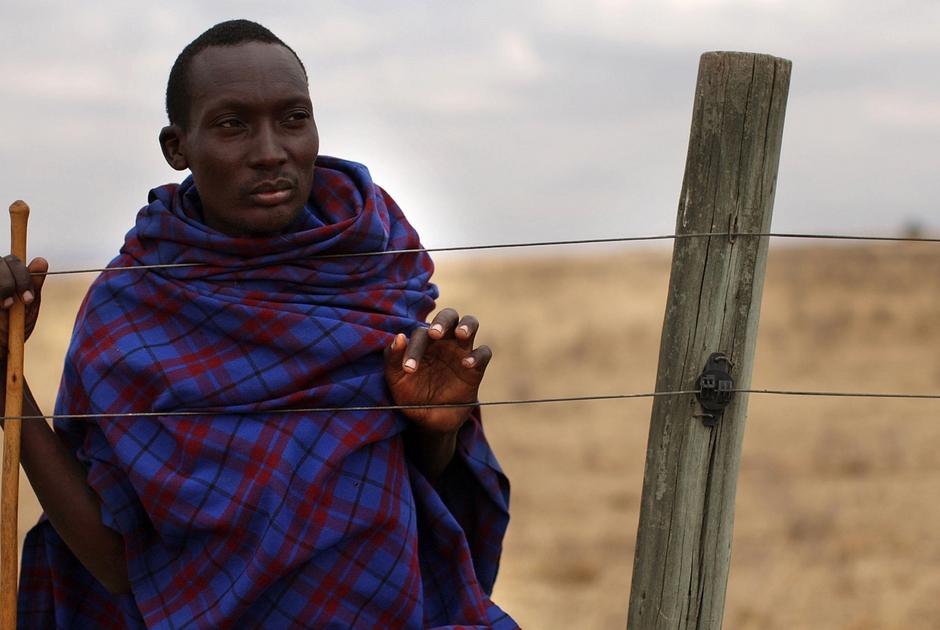 The government of Tanzania is currently planning to evict more than 80.000 indigenous Maasai people from their ancenstral land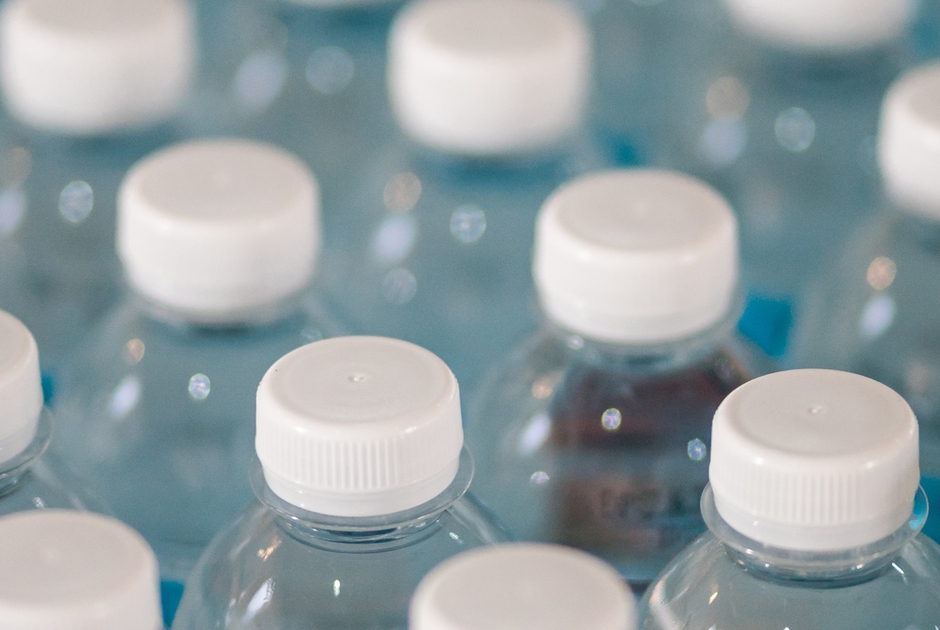 A new UNU-INWEH report on the global bottled water industry reveals the massive scale of this market and the lack of strict quality controls.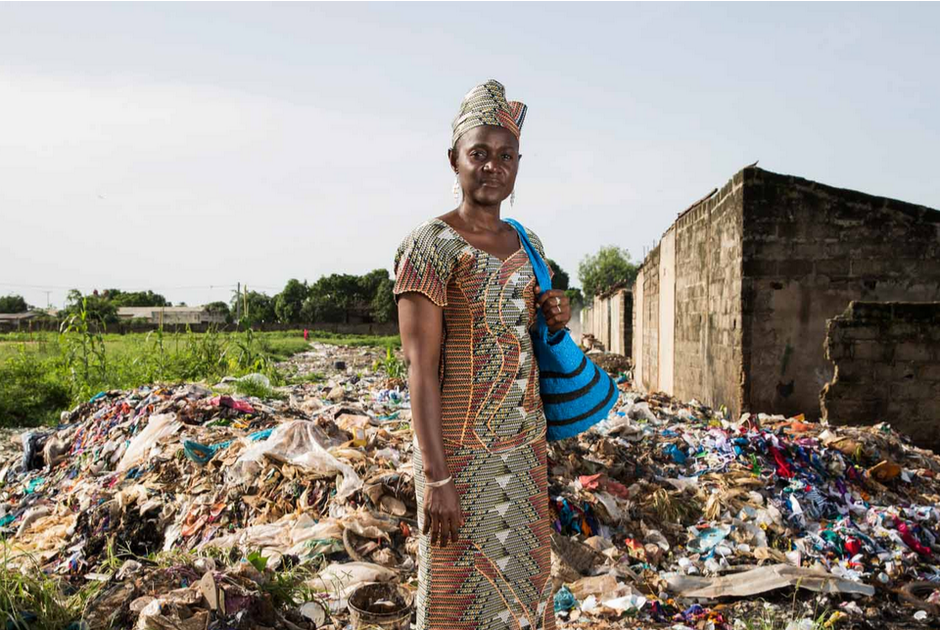 Isatou Ceesay founded a social enterprise that is helping to fight plastic pollution and empowering women and young people to gain economic independence.