What is happening in Aleppo, as civilians call on the world to protect them
Uomini bruciati vivi, esecuzioni sommarie. Le ultime ore di combattimenti ad Aleppo segnate da terribili atrocità. Accordo per evacuare i civili.
Hundreds of people have been evacuated from East Aleppo, but thousands of civilians and rebels are still waiting to leave the war-torn areas of the city.
13:00 – The Syrian Observatory for Human Rights reports that the first convoy of buses and ambulances has been attack by government forces.
Update 15 December, 11:00 – The evacuation of people out of East Aleppo has started under a new ceasefire.
18:00 – The international medical humanitarian organization Doctors Without Borders/Médecins Sans Frontières (MSF) has expressed outrage over the violence against civilians. MSF has called on all warring parties to abide by their obligation to protect civilians in both the besieged areas and in areas newly taken over by the Syrian government. "All negotiations to secure access by the United Nations (UN) and other groups—including MSF—to provide humanitarian assistance in the besieged areas of eastern Aleppo have failed. In most cases, people were not provided the chance to flee. It has also proven impossible to evacuate patients, resupply hospitals, and provide much needed aid to those who remain trapped. All parties concerned were and are responsible for this failure," MSF said.
"This is one of the worst crises MSF has witnessed in years," said Teresa Sancristoval, head of MSF's emergency unit for Aleppo. "We remind all sides that even war has rules. It is paramount that all parties allow people to flee to safety, allow the evacuation of the sick and wounded, and facilitate the protection of, and humanitarian assistance to, those who are caught on the front lines."
17:30 – Some rebel groups are reportedly blocking the evacuation of civilians out of East Aleppo. According to  the Commission of Inquiry on Syria, opposition groups including Fateh al-Cham and Ahrar al-Cham are preventing residents to leave the city.
15:40 – About 1,000 people have been evacuated from East Aleppo. According to Turkish news agency Anatolie, which quoted the head of the local Red Cross, these people have been blocked at a check point by Iranian forces.
13:50 – According to Syrian army, there are 15,000 people still trapped in East Aleppo. The planned evacuation of civilians hasn't started most probably because it has to be validated by all parties, including Iran and Russia.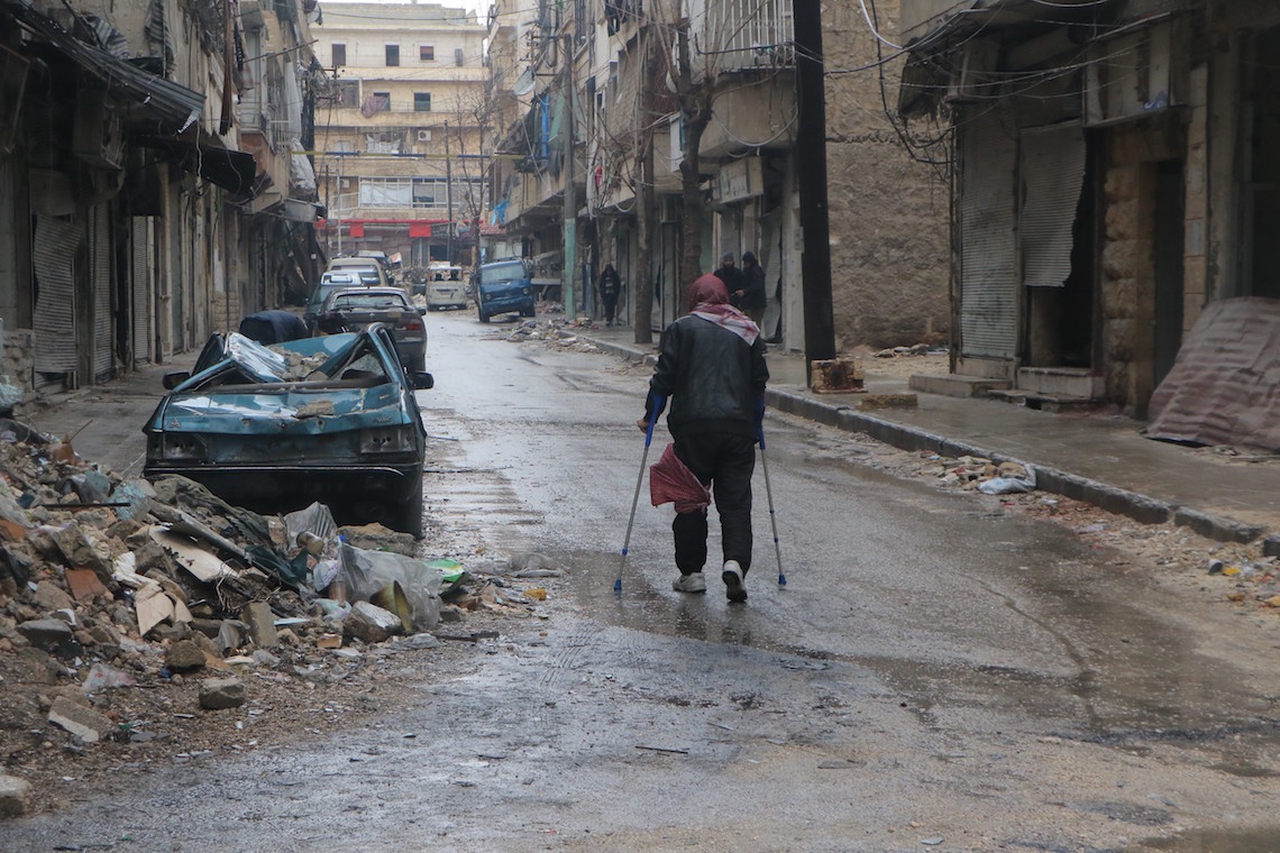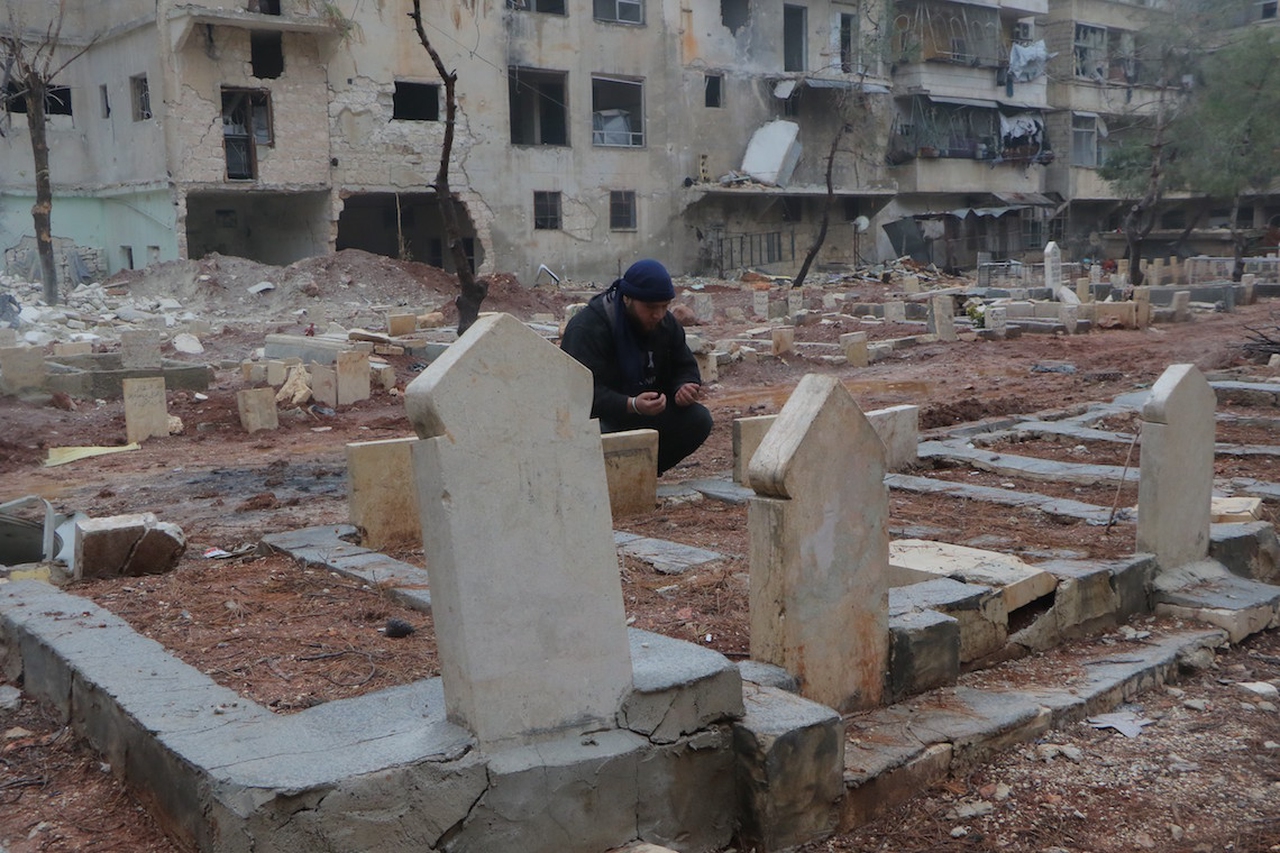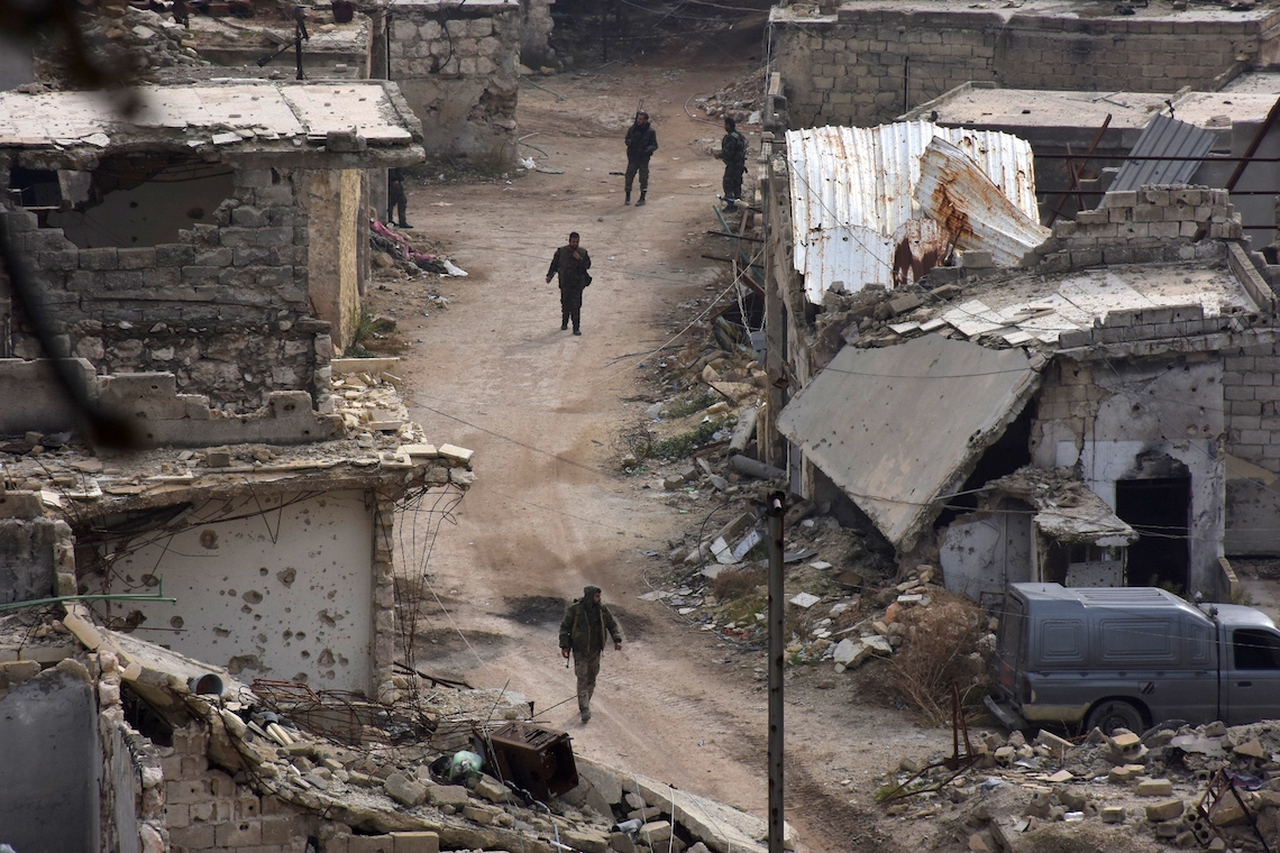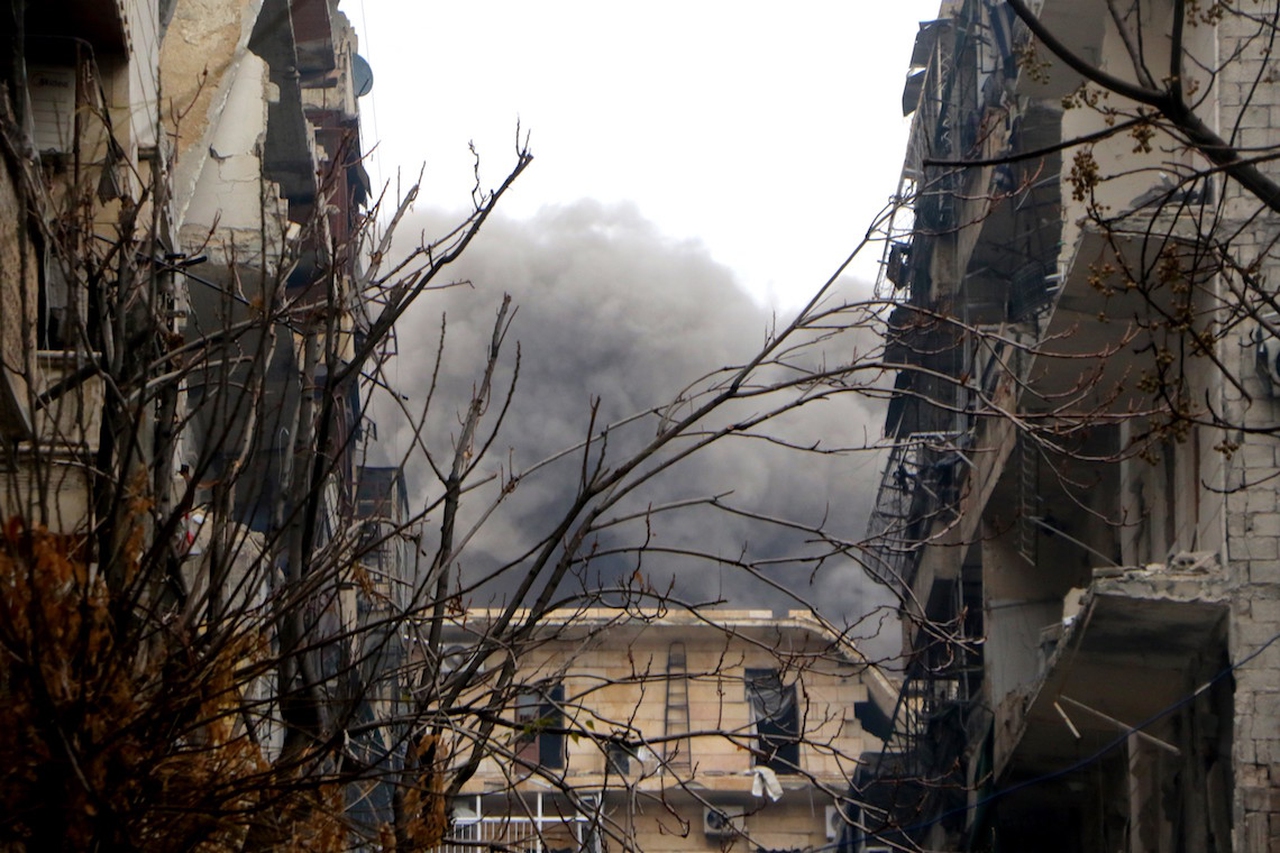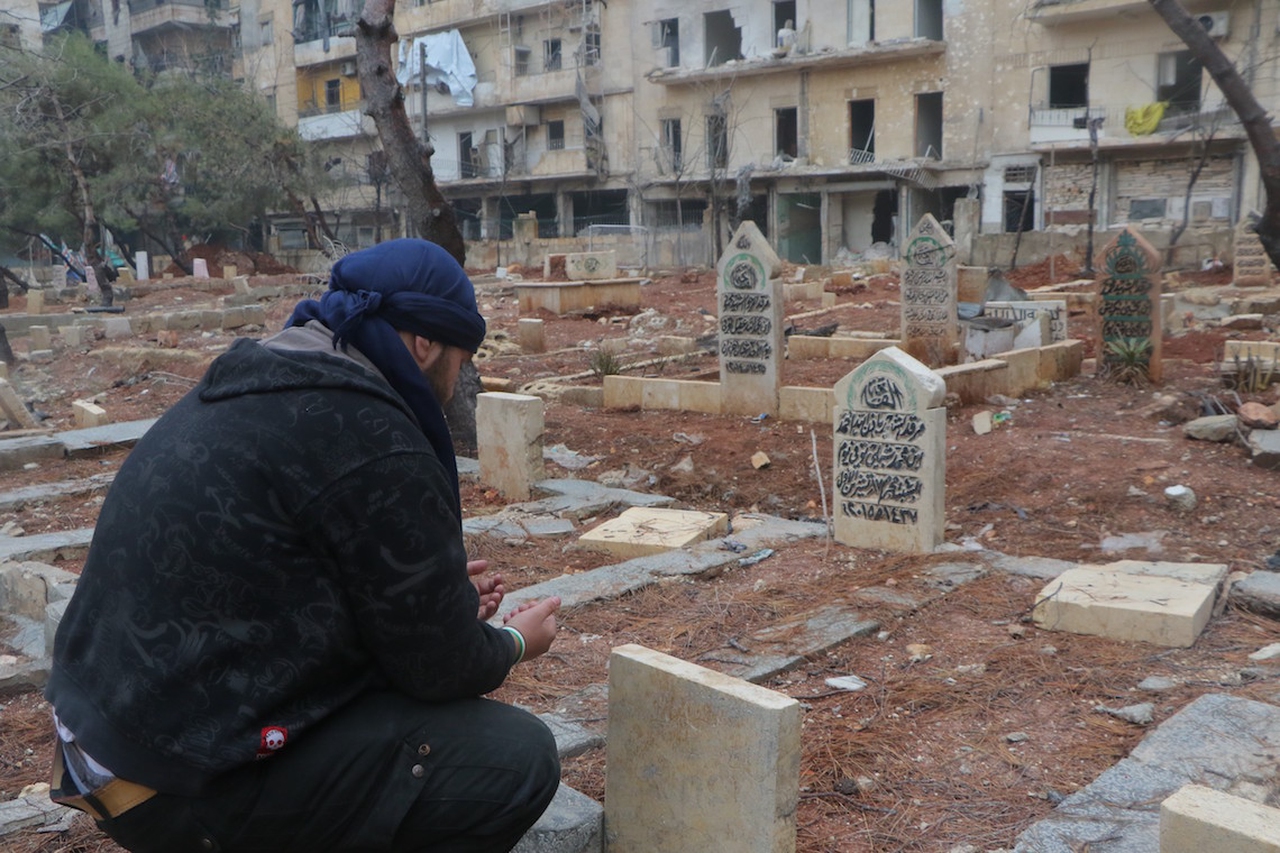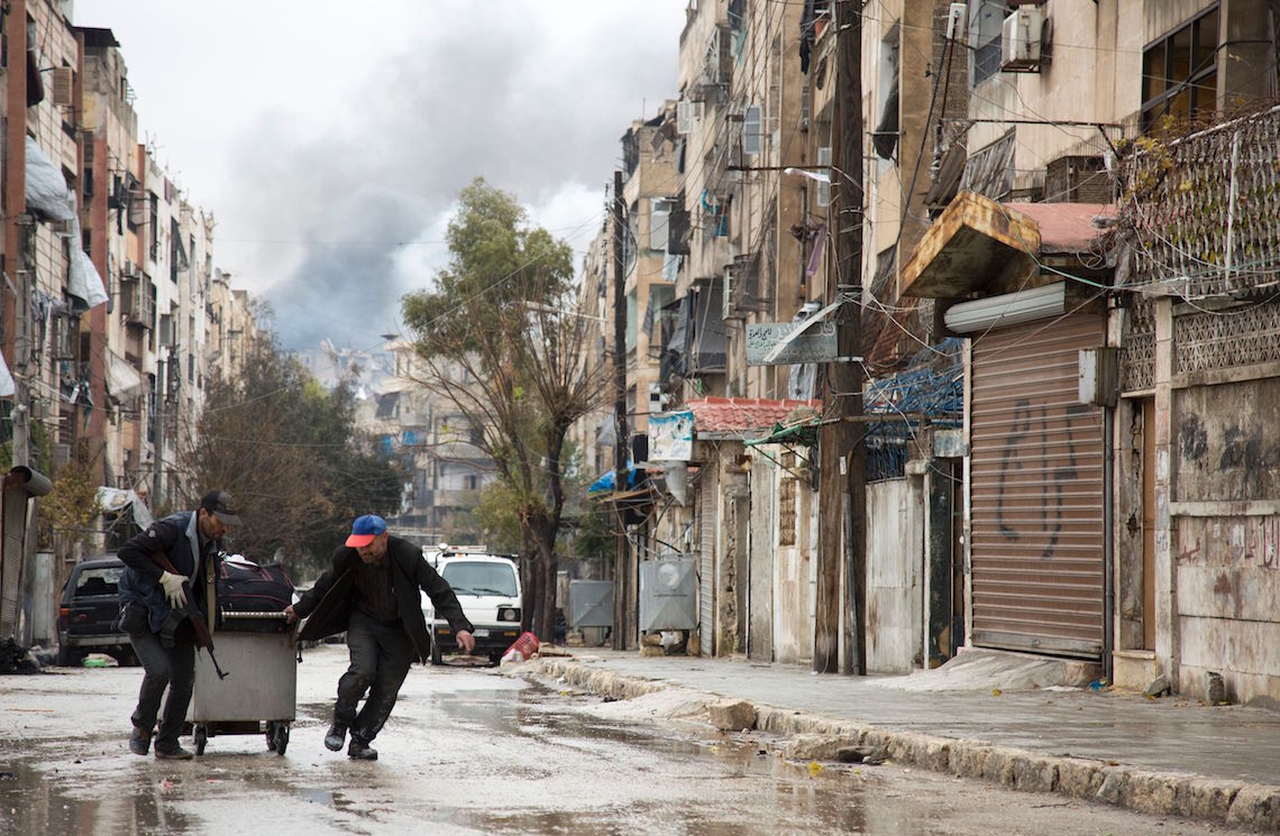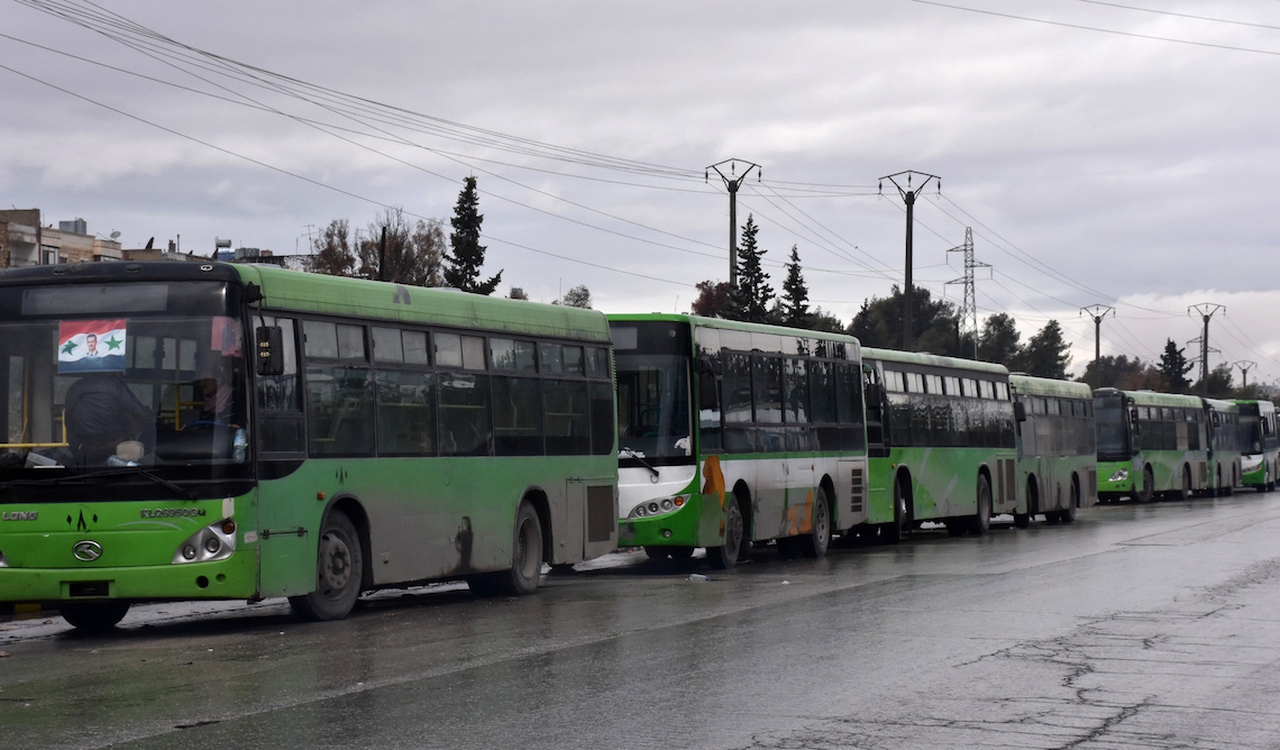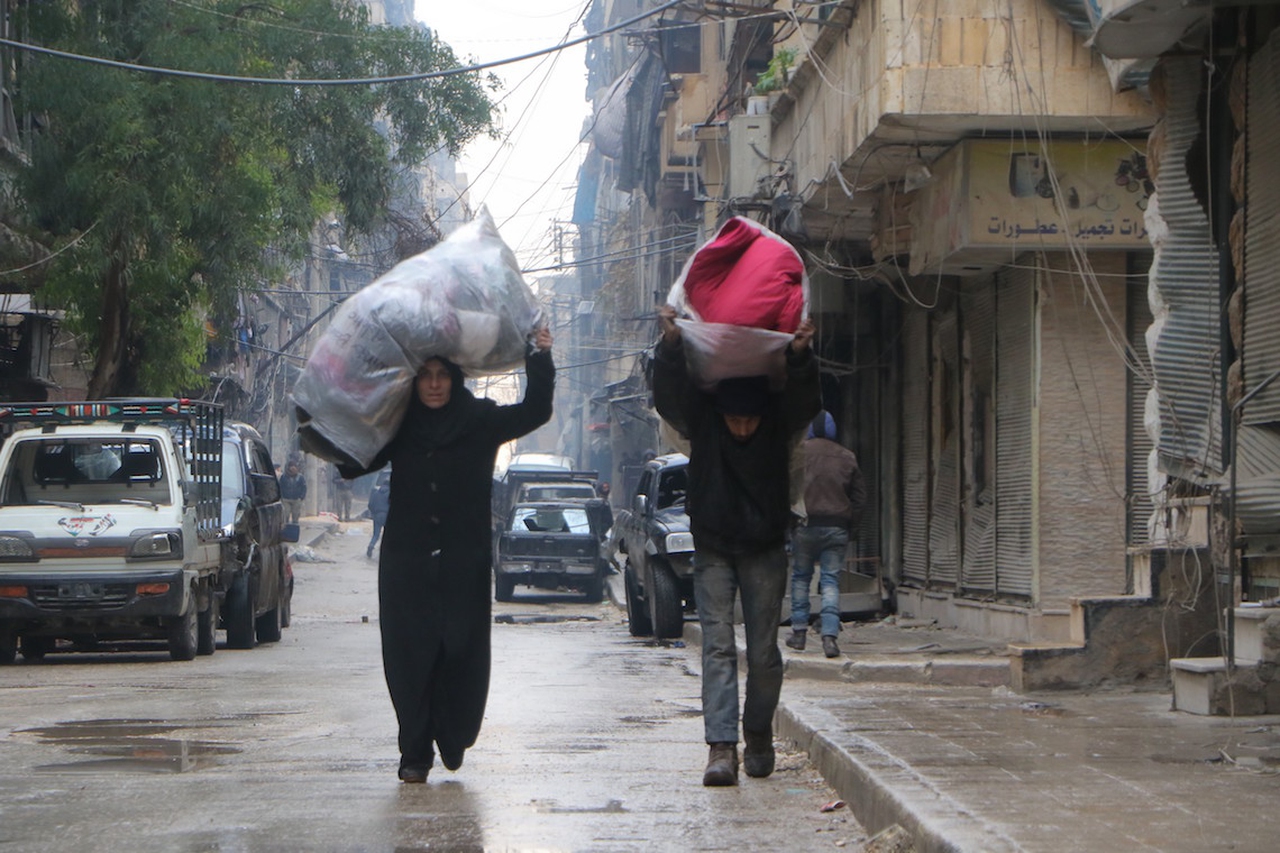 13:45 – Kurdish militias of the People's Protection Units (YPG) control of the Sheikh-Maqsoud area.
12:50 – Turkey's President Recep Tayyip Erdogan has announced on tv that he will call Russian President Vladimir Putin in order to preserve the ceasefire.
12:00 – Heavy bombings are reported. Government troops are attacking the last rebel-held areas.
Update: 14 December, 11:00 – According to local sources, the ceasefire declared on Tuesday between pro-government forces and rebels has been broken. The planned evacuation of people from East Aleppo has been delayed. Russia's army has announced that bombings have resumed.
---
Rebels, who have been fighting against pro-government forces in Eastern Aleppo for months, have agreed to a ceasefire. According to AFP news agency, government buses were brought in the area in order to allow evacuating civilians and rebel fighters.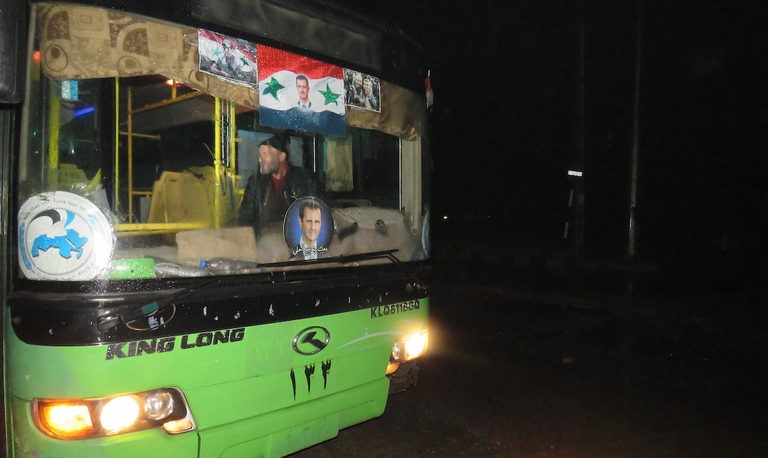 On 14 December, the day after the end to hostilities was announced, the front page of French newspaper Libération on 14 December read "Here lies Aleppo".
«Ci-gît Alep», la une de Libération ce mercredi https://t.co/5ftiIOMTd0 pic.twitter.com/3lwDb3DIal

— Libération (@libe) December 13, 2016
The last messages of civilians and activists
"This may be my last message, now I await death". Many messages of this kind have been sent out from East Aleppo, Syria, on Monday and Tuesday, during the last hours of fighting between the government forces led by Bashar Al-Assad and rebels. Social networks have spread a dramatic sequence of violence perpetrated by fighters on defenceless civilians. United Nations Secretary-General Ban Ki-moon has launched a desperate appeal to "protect civilians by abiding by humanitarian international regulations".
Unspeakable violence in the streets of Aleppo
AFP reports "men and women sleeping on the street, lying on their baggage, with nothing to eat". An extraordinary meeting of the UN Security Council has been called in order to take stock of the humanitarian emergency.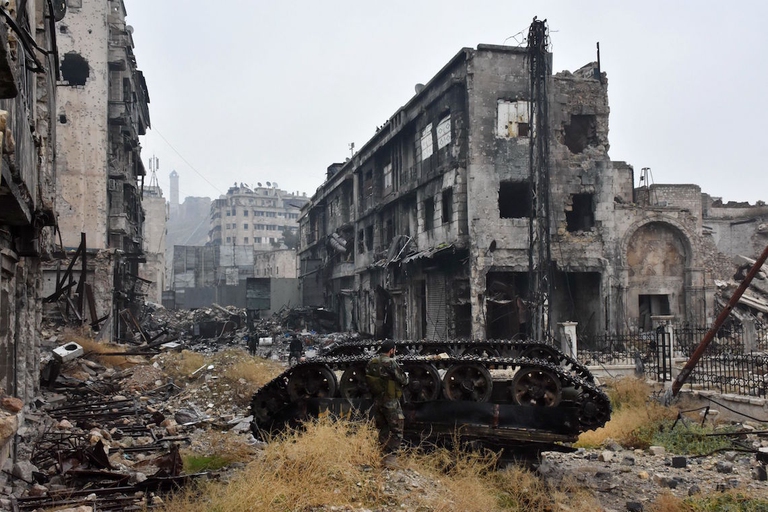 The High Commissioner for Human Rights has reported dozens of summary killings by pro-government forces. "According to our sources, people on the run are killed on the street, or inside their homes. We're extremely worried about those who're still in town," said Ruper Colville spokesman.
My name is Bana, I'm 7 years old. I am talking to the world now live from East #Aleppo. This is my last moment to either live or die. – Bana

— Bana Alabed (@AlabedBana) December 13, 2016
A deal to evacuate civilians
Someone has even talked about people burnt alive and doctors killed in the few medical facilities left. There are 50,000 to 100,000 civilians trapped in East Aleppo, as reported by Director of NGO Médecins du Monde Jean-François Corty to the 20Minutes newspaper. A plan to evacuate them has been put in place by the government, with buses ready to take them out of East Aleppo.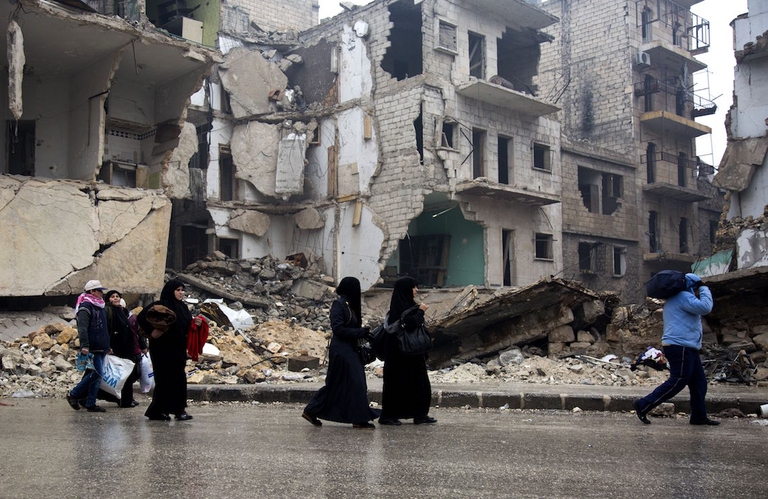 The evacuation was expected to start earlier this morning but, according to local sources, no one has left yet.
Translated by Camilla Soldati

Quest'opera è distribuita con Licenza Creative Commons Attribuzione - Non commerciale - Non opere derivate 4.0 Internazionale.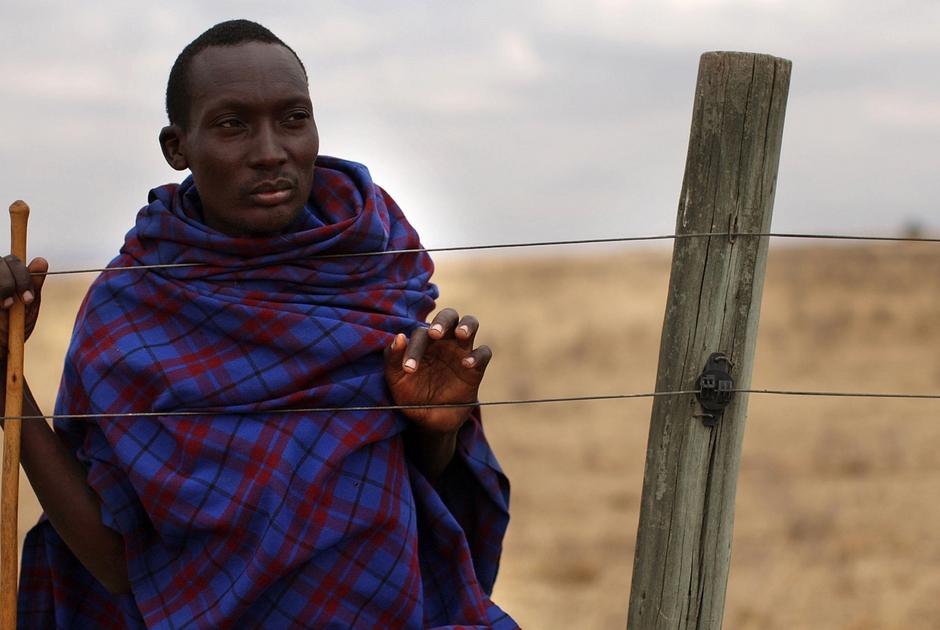 The government of Tanzania is currently planning to evict more than 80.000 indigenous Maasai people from their ancenstral land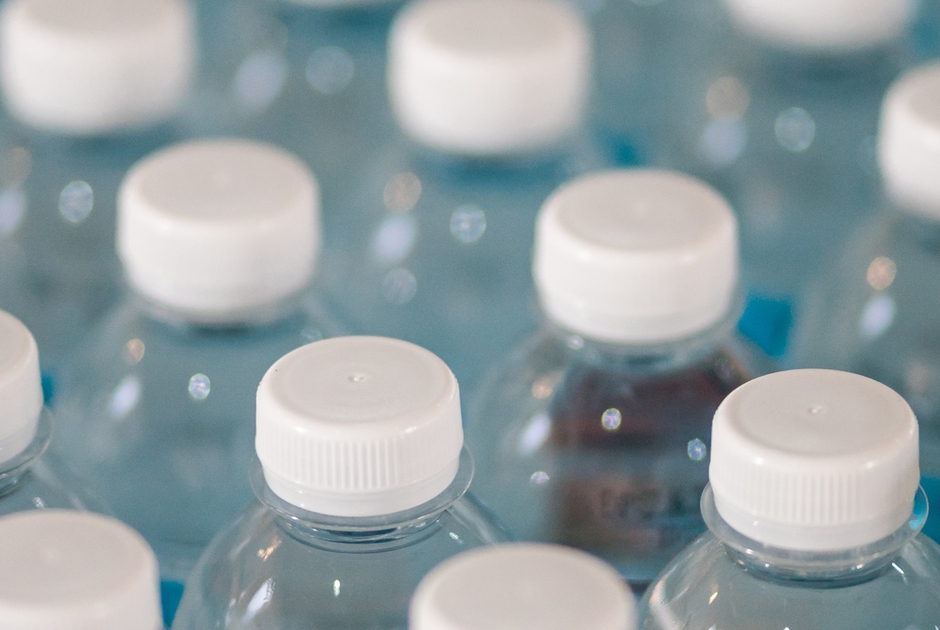 A new UNU-INWEH report on the global bottled water industry reveals the massive scale of this market and the lack of strict quality controls.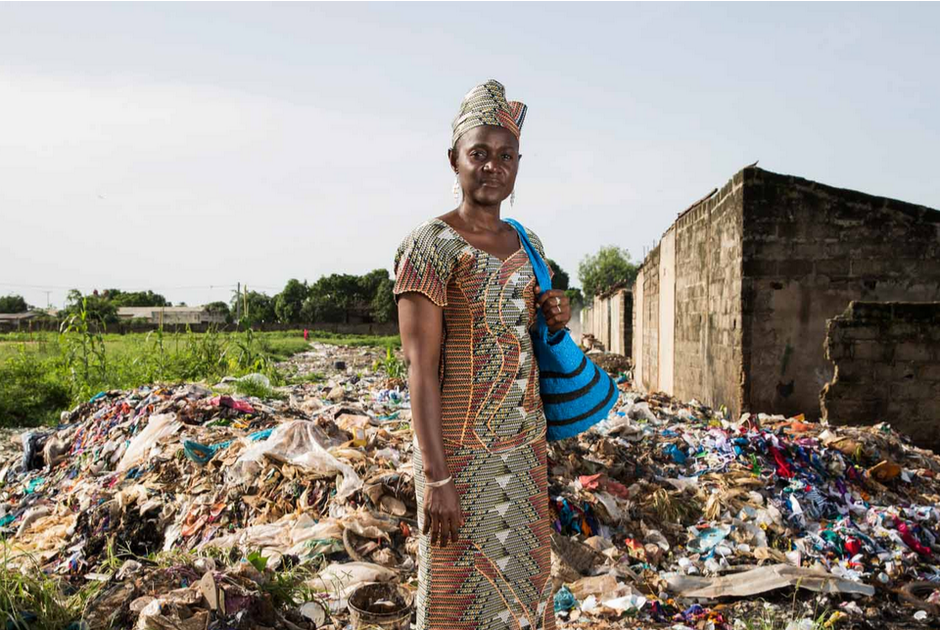 Isatou Ceesay founded a social enterprise that is helping to fight plastic pollution and empowering women and young people to gain economic independence.